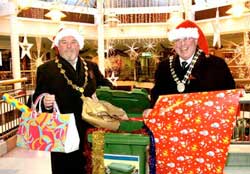 UP to 800,000 metres of wrapping paper – enough to travel up and down the county more than 12 times- will be used by Limerick shoppers this Christmas season.
That is according to Limerick City and County Councils, who launched their annual Green Christmas campaign to urge householders to spare a thought for the environment. 
And to those short of cash this festive season, their advice is to give of your time to others.
Pre-Christmas tips include sending e-cards to cut down on packaging, wrapping presents with recycled paper, turning Christmas lights off overnight and pooling Christmas shopping into fewer bags.
Shoppers are also encouraged to support local and fairtrade producers.
After Christmas, householders are advised to recycle all packaging, and take empty bottles and tins to one of Limerick's many bring banks.
"We all produce extra waste over Christmas so it is a perfect time to focus that bit more on all that unnecessary waste," explained Lorraine Power, Environmental Awareness Officer.
She added, "There are many ways to keep the festive season fun while reducing the negative social, economic and environmental impacts. We are urging people to reduce, reuse, recycle and compost to help us make a difference this Christmas".
Sinead McDonnellof Limerick City Council, said that one of the main objectives of this year's campaign is to encourage householders to recycle more of their used packaging than ever before.
She continued, "We will all be busy rushing around doing the shopping and stocking up on food and drink over the next few weeks.  By sparing a thought for our planet and taking a little time to plan ahead, we can slim our bins, save time and perhaps a few euro too."
Top  five tips to reduce waste
1. Make a list and check it twice! Buy only what you need!
2. Cool cards – Send an e card, make your own unique one that won't be forgotten!
3. Simple, stylish presents – Buy an eco-gift, voucher or charity gift to avoid unwanted gifts that will only end up as clutter. Shop local and/or look out for fair-trade gifts. If you're broke, make a gift of your time!
4. Get Christmas wrapped up – Try alternative wrapping by buying recycled paper or making your own.
5. Do durable – Use reusable plates, cups and bags rather than throw away items. Buy loose vegetables, fruit, meat and cheese.