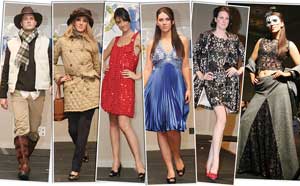 St Michael's Rowing Club hosted a fashionable evening at the Strand Hotel recently (formerly the Hilton) where members of the popular rowing club shared the ramp with the male and female models from Glamour the Agency.
Compere Catriona Tierney introduced us to collections from Paper Dolls of Little Catherine Street, Jack & Jones of Bedford Row, Timberland of O'Connell Street, Tubes of Henry Street, Fashion House of Little Ellen Street, First impressions located in Corbally, Imasa Lifestyle of O'Connell Street, Pamela Scott of the Crescent Shopping Centre, Seduzca of William Street, Tippe Canoe of Shannon Street, Gretta Gibbs of Catherine Street, Sequoia Lane of O'Connell Street, and designer Fiona Whyte. Shoes were from Cerise Shoe Boutique of Killaloe, and models hair for the event was by The Mill salon of Upper William Street, with make-up by Emma Lane.
One of my favourite collections on the night was from new lifestyle store Sequoia Lane which brought a bit of equestrian country to the evening for something that bit different. With the Christmas season now upon us, the show had party dresses aplenty in aw08 trends from purple and black–the colours of the season, to delicate lace detail, high waists, tulip skirts, and, of course, lots of sparkle.
There aren't many shows left now in the season, don't miss the evening at Limerick Golf Club on December 17 in aid of Cystic Fibrosis being organised by Limerick model Sally Anne Hartigan.