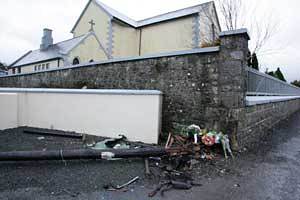 THE village of Hospital was in mourning this week after a horrific road traffic accident caused the deaths of Oliver Kearney, aged 21, and his friend John Swords (22).
It is understood that Mr Swords had earlier attended the christening of his baby daughter.

Their Honda Civic hit a wall outside Knocklong parish church.
According to reports, both men were on their way to Knocklong to investigate an alleged break-in at Mr Swords home.
Mr Kearney, a carpenter, was the only child of Noreen Kearney, whose husband died in 2008.
Mr Swords was son of John and Eileen Swords, and is also survived by sister, Stephanie.
Gardai said that both men were pronounced dead at the scene of the accident, and their bodies were removed to the Mid-Western Regional Hospital.