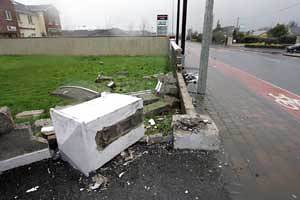 TWENTY three-year-old Martin Moran was tragically killed in a one car collision last Sunday. Mr Moran, from Woodview, died instantly when the BMW he was driving with two other passengers, crashed into an entrance pillar near Garryowen FC.
The two other male passengers were seriously injured and taken by ambulance to the Mid-Western Hospital.
Mr Moran was  winner of a bronze medal in the world skills competition, held in January 2007. He worked as  a toolmaker in Shannon but was also a talented mould maker.
Local councillor, Richard Butler, said  everyone in the area was shocked. "It just goes to show how vulnerable people are on the roads.  This accident brings home to people the need for caution on the roads".  
Gardai at Roxboro station have launched an investigation into the fatal crash, which happened at around 2.15 Sunday morning