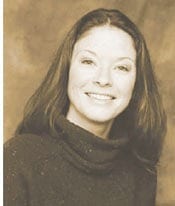 WITH a confident strapline that reads "The complete guide to choosing the perfect music for your wedding ceremony", Arts page approached The Irish Wedding Album with eyebrow raised and hand to the ear. The attention paid to this new CD by Sarah O'Kennedy was worth it. A selection of 30 tracks, sung and produced by the professional O'Kennedy, has brought together, and quite brilliantly, all the music you need for a unique and intimate ceremony.
Educated at Cnoc na Labhras and UL, O'Kennedy left her Ennis Road origins to become a soloist with Anúna, to sing with The Corrs and The Chieftains and perform at the wedding of the son of former British deputy leader John Prescott at  Westminster Abbey. Sarah O'Kennedy has been singing for weddings for 15 years and turned professional  around 2003.
Pachelbel's Canon in D and Schubert's Ave Maria have been loved the world over by centuries but the "Irish" in the tile is merited. O'Kennedy, a teacher of voice at The Irish Harp School and herself trained by Marie Walsh and Evelyn Dowling, has brought airs and graces from our own tradition in An Cúlainn, Tabhair Dom do Lamh and O'Carolan's Concert.
"I recorded The Irish Wedding Album in different places," this mother of two told Limerick Post. "I did an organ piece in Monaleen Church, worked with harpist Janet Harbison, and recorded the entrance and exit pieces at St John's Cathedral with their organist Bernadette Kiely".
More was done at St Joseph's Church and all tracks were laid down at Pine Valley Studios in Killaloe. The instruments, music and locations, combined with O'Kennedy's own sure clarity, meld to create an authentic take on what live wedding music  is on the day.  Find the album at Empire Music for 16.50e or go online at website www.sarahokennedy.com for 15e direct purchase.