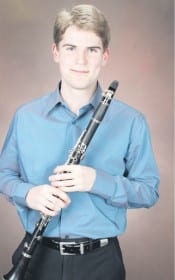 THE Irish Chamber Orchestra will perform its first concerts of 2009 in Dublin at the National Concert Hall, Cork at CIT and in Limerick at University Concert Hallon February 5, 6 and 8 respectively. Copland's jazz-infused Clarinet Concerto combines classical subtlety with the wild unpredictability of jazz to which American Johnny Teyssier, pictured, will give plenty of zip.
Teyssier studied clarinet from a young age and was last year's recipient of the European Council's Juventus Prize which acknowledges rising young stars in Europe. ICO's artistic director Anthony Marwood had previously recognised Teyssier's talents when he was awarded the Irish Chamber Orchestra's 2007 Ardán award. 
This prize offers emerging young soloists a platform and subsequent concert appearances with the orchestra.  He last appeared in Limerick at the 2007 MBNA Shannon International Music Festival with the Irish Chamber Orchestra and has performed in recital throughout Europe and the United States.
 Sunday's programme features a world première by  composer Deirdre McKay from Co. Down. Of the scheduled work, McKay explains "The desolate beauty of our planet's most extreme and inhospitable landscapes, like a winter freeze, took captivity of this piece. In turn, it answers to the invocation of the ice world, as pared and fragile as its pulsing meltwater edge, diaphanous shards floating in its cathedral spaces".
 McKay's work has been performed in Europe, South Africa and USA with commissions from the National Chamber Choir of Ireland, RTÉ Living Music Festival, Music Network, Dublin Youth Orchestra, Sligo New Music Festival, the Ulster Youth Orchestra and the Irish Chamber Orchestra.  The Sunday 8 concert is at 8pm in UCH and you can book online at www.uch.ie as well as box office.