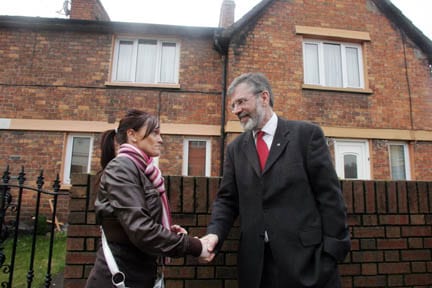 ON walkabout during his recent visit to Limerick city, the Sinn Fein president, Gerry Adams, did not shy from commenting critically about Nicholas Street.
"It is very disappointing to find that such a street, located in the historic centre of the city and just 100 yards from City Hall, is so neglected," he observed.
Mr Adams, who was accompanied by two of his party's local election candidates, Maurice Quinlivan and Tom Collopy, had earlier presented First Dail commemorative packs for distribution to all four city libraries, to the city librarian in Watchhouse Community Library, followed by a visit to the site for the proposed new training centre (for which planning permission was recently granted) in Moyross.
On Thursday,  he addressed over 200 people at a public meeting in the Strand Hotel, where he spoke on the topic: "Irish unity Makes Economic Sense," which was followed by an open discussion focusing on Sinn Fein's economic policies and the party's proposals to put Limerick people back to work.
Discussions and meetings with the city's business sector on Friday were followed by a courtesy call on Mayor John Gilligan in City Hall.
During his visit, Mr Adams confirmed that Tom Collopy and Maurice Quinlivan will stand for Limerick City East and North respectively in the June elections and that there is a very strong likelihood that a third candidate will be added to represent the southside of the city.
Our picture shows Sinead Fahy was St Marys Park pictured with Sinn Fein Leader Gerry Adams as he had a walkabout on Nicholas St, Kings Island in Limerick City on Friday.
Pic. Brian Arthur/Press 22.