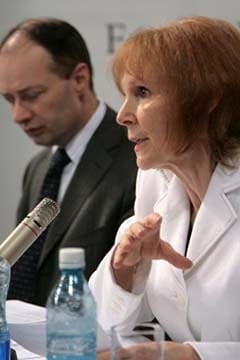 THE Government ha been warned by Kathy Sinnott, MEP, "not to cut funds for cancer treatment units and palliative care unit".
Mrs. Sinnott, a member of MEPs Against Cancer, said: "Cancer doesn't respect recessions.
People with cancer need treatment; they cannot wait for better economic times.  "It is important that patients are provided with the highest standard of care possible, including palliative care treatment, where appropriate.
Patients must also have equal access to treatment regardless of their geographical location. I hope the Government will continue to fund and improve our cancer services in Ireland".
Ireland has a greater incidence of cancer than the majority of EU countries namely that: breast, colorectal, lung, lymphoma, oesophageal cancer and melanoma of the skin incidence. Mortality rates for women in Ireland are significantly higher than the rates for women in the EU. Likewise, colorectal and oesophageal cancer incidence rates for men in Ireland are significantly higher than the rates in the EU.