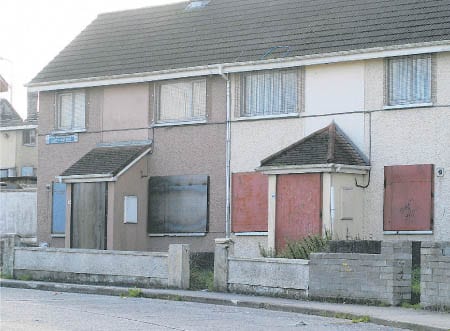 A CITY HALL executive has told councillors he "knows where they are coming from" in relation to the serious problems arising from boarded up houses in the city.
Director of services for housing, Kieran Lehane, said the boarding up of houses on estates escalated when the regeneration process commenced.
"I had a meeting with the Department of the Environment on Friday and will be coming back to you to revise our plans – I've had a number of meetings with the regeneration agencies and will be having a further meeting with the Department on Thursday – it is not our policy to board up houses indiscriminately – in Ballinacurra Weston, in particular, it has reduced the standard of housing generally".
Mr Lehane was responding to negative criticism of the boarding up of houses which is attracting severe anti-social activity that is causing intimidation and misery to settled neighbouring residents, whose homes are becoming damp, due to being located adjacent to the closed up properties.
Cllr Joe Leddin has called on the council to reassess the situation to see if some of these houses can be "deboarded"
A clear policy on the issue is called for by Cllr Ger Fahy.
"We must know what to do about houses that become vacant, due to regeneration plans – there is no policy in place to relet these houses .Neighbouring homes are becoming damp and posing a health hazard to their occupants – many of them do not have central heating. We need a clear strategy `as to what to do when houses become vacant".
Pointing out that some of these houses are being burnt out before they can be relet, Cllr James Houlihan asked the situation regarding the installation of CCTV, and Cllr John Cronin said it is vital that houses are not allowed to "fall asunder."
A boarded up house in Vizes Court recently went on fire, following anti-social activity in the area.
"The elderly neighbours were left feeling very vulnerable," Cllr Maria Byrne told Mr Lehane, and there are similar problems in St Mary's Park, where, according to Cllr Gerry McLoughlin, there are 25 houses boarded up.
Mr Lehane assured Cllr Byrne that funding to demolish the boarded up house in Vizes Court will be obtained "post haste" from the Department of the Environment.
"We are now getting more competitive quotations for this work," he said.