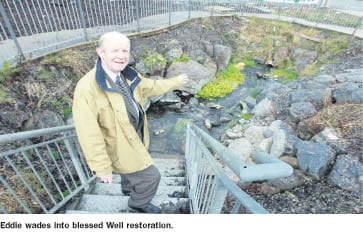 A HISTORIC holy well located on the old Tipperary Road, has been restored following representations by Castleconnell Councillor Eddie Wade.
The well, named Tobar na Seisiri, or 'Well of a Team of Six', had been used by Limerick folk for centuries and it was believed that it's water contained a cure for various ailments.
For this reason, it was called the Blessed Well by locals.
Unfortunately, it had been left in a poor state following works by various developers in the area of Crablands, Crossnagalla.
The landmark, which had been looked after by the Shanahan family from the area, had not been used since it was damaged several years ago. Councillor Eddie Wade had been calling for it's repair ever since.
The well has now been restored by developer Jerry O'Sullivan, a friend of Mr Wade's, and is in full working order.
Councillor Wade told The Limerick Post; "It's great to have the Tobar na Seisiri up and running again. It was such a shame when it was damaged as these places are a rich part of our history".
People in the local area have now returned to using it as a source of water, and is open for use to members of the public.