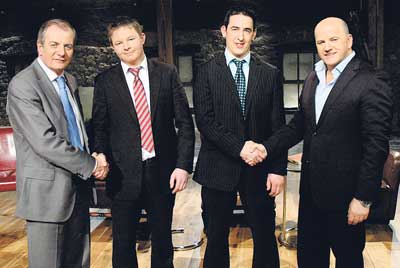 Limerick Institute of Technology this week congratulated Limerick Enterprise Acceleration Platform (LEAP) participants Donall O'Connor and Micheál O'Donnell for securing 50,000 euro investment on the first Irish programme of the Dragon's Den to develop their business www.pedigreecattle.ie.
The college noted that "it is fantastic to see two entrepreneurs from Clare and Limerick getting the financial backing from seasoned businesspeople to take their start-up to the next level".
"Donall and Michéal epitomise the essence of the LEAP programme" said Graham Royce, LEAP programme manager explaining that the year long programme sets out to assist entrepreneurs to develop a business plan to attract investment.
"Their passion and commitment to get this business off the ground was a key factor in LIT offering Donall a place on the programme.  We also valued the market that they had identified to advertise cattle online meeting an unmet need of the agricultural community while tapping into the trend of growing use of the internet by farmers.  As owners of pedigree herds they exhibited substantial knowledge of the market in Ireland and the UK."