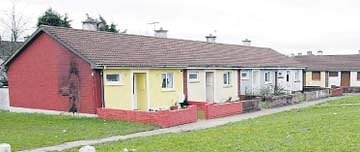 Regeneration means houses left unoccupied
RESIDENTS at Hartigan Villas, Moyross, claim they are unable to sleep at night because of attacks on their property.
Ann O'Donnell told the Limerick Post that her house, and several of her neighbours, had come under attack in the last two weeks.
Ann, who has lived at her bungalow in Hartigan Villa's for the last 12 months, and has been resident in Moyross for the last 26 years, told us that her little chiawa dog was stolen from the inside of her front porch on January 26.
The 50 year old woman, who lives alone, said that her dog was taken by a passing teenager.
Recently, she encountered a group of minors, between 14-18, outside her front door and in her back garden, who were throwing rocks at the windows and doors. When she opened the front door, they threw the rocks at her, marking her face. Gardai arrived 20 minutes later and saw the young group of boys at a green nearby, but, allegedly, they informed Ms O'Donnell that if they brought them back home their parents wouldn't care.
Ann is not the only woman in Hartigan Villa's at the receiving end of constant attacks. Her elderly neighbour, in her 70's, is also frightened. It is believed that a group of delinquents climbed on top of her roof and threw an iron bar down the chimney.
Residents blame the regeneration programme for making houses around them vacant. More and more teenagers, they told the Post, are hanging around the bungalow's causing trouble. Ann claims that groups have been taking slate's off the vacant houses and hiding drugs there.
Things became even worse last week when another neighbour, a woman in her 60's, was nearly mugged in her own home, as two hooded young men, in their early twenties, tried to barge in the door demanding money.
"It is very frightening around here now, I even find it hard to sleep at night, every noise scares me". Ann claims that all the residents are on edge due to the recent attacks and the vandalism that has been taking place, "we really don't feel safe anymore".
However, progress is on it's way as last week, Ms O'Donnell and other neighbours met with Michael Hartnett, from the antisocial behaviour department of City Council, and were promised better surveillance in the area.
"Since the meeting, we have begun to see a stronger gardai presence. Mr Hatrnett really sympathised with us and promised that he is going to ask the regeneration programme to address our issues".