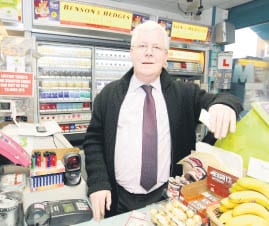 One customer reduces daily paper order from six to one
NEWSAGENTS across Limerick and the country are being seriously affected by the current economic climate.
It has been reported that 12 news agents are closing down every week in Ireland and it is predicted that a minimum of 600 shops will close by the end of the year,
with the loss of approximately 7,000 jobs.
Speaking to The Limerick Post, Liz O'Dwyer said newsagents were certainly feeling the pinch.
She commented "I have had to let one part timer go and had to cut back the hours of my other five staff members."
"We have really noticed a drop in the number of customers coming into the store. I think people are just afraid to spend money in the fear that things might get even worse for them financially," she continued.
The decline in the news agency business seems to be going under the radar, despite the fact that 130 people in the industry are finding themselves out of work every week.
"Because these jobs are being lost a handful at a time, many people don't realise the scale of the disaster, but this is a virulent cancer eating away at communities all over the country," said Convenience Store and Newsagent Association (CSNA) chief executive Vincent Jennings, a former pupil of Crescent College and who owned a filling station and shop in the Fairgreen area..
Speaking to the Limerick Post Mr. Jennings stated; "Newsagents in Limerick are facing a number of extra challenges in these already testing times.
"Staff wages are controlled by the government and at a time when most other sectors are taking a pay cut, newsagents staff are due to receive an increase in salary. On top of this, waste disposal costs are immense, while the ESB charge the highest rates in Europe. Electricity is a huge expense for newsagents who have lights and refrigeration running throughout store opening hours".
Sean Coughlan (pictured) manager of the self titled newsagents off O'Connell Avenue, has also had to make cut backs.
"We have had to cut back the hours of all our staff here and have had to make our full time staff part-time", he said. "We are really feeling the affect. For example, a bank has gone from ordering six newspapers a day from us, to ordering just one. The sale of newspapers and magazines in general has seriously slumped and we are having to make cuts in our profit margins just to stay in business".
Mr. Jennings of the CSNA, is calling on the government to make a move to assist newagencies and stores across the country
"As the government considers it's economic framework it must do everything possible to sustain jobs and small businesses.  Failure to do so will eviscerate the lifeblood of Ireland's domestic economy," said Mr Jennings.
"If newsagents continue to face extortionate costs, it will be the public who will lose out. People will have to travel outside of their locality and the notion of a local 'convenience' store will be a thing of the past," Mr. Jennings concluded.
It emerged last weekend that national newspaper sales had fallen since the turn of the year.