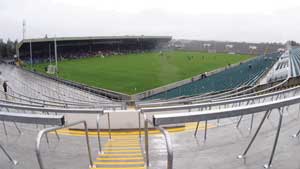 THE ball has been thrown back into the court of rugby and GAA authorities, with Defence Minister, Willie O'Dea, taking time out from his visit to Chad, to contact the Limerick Post, to lend his weight for a possible Munster Heineken Cup semi-final, to be played at the 49,000 capacity Gaelic Grounds.

Speaking to the Limerick Post from Chad, where he is visiting the Irish Troops, Mr O'Dea said: that as a minister of a government that has been extremely generous to the GAA, he would like to see the organisation "short-circuiting the process involved in securing the Ennis Road stadium for the match.
"The GAA authorities in Limerick should press to further this and I'd be right behind them – I will talk to the GAA when I return from Chad. To have the match played in the Gaelic Grounds would offer double the capacity of Thomond Park, and would be a great boon to the Limerick economy at the moment, generating countless millions of euro".
An informed source close to Munster Rugby has confirmed to this newspaper that should the County Board indicate a willingness to host such a fixture, the ERC (governing body of European Rugby) could make a ruling in favour of Limerick. Of course, all hinges on the result of the Munster v Ospreys quarter final.
"The rules say that you can't host the game at your traditional home ground, but at a neutral venue deemed suitable by the ERC, but the precedent is there, as it occurred in 2005, when Leicester and Stade Francais each hosted semi-final games in their respective cities".
With Mayor John Gilligan and City Hall executives backing the move, Sean Lally, Limerick Chamber president, estimates that a semi-final switch to the Gaelic Grounds could generate 16million euro to the local economy.     
"This could be the difference between businesses staying open and available to continue to trade. Having the game in Limerick, in a stadium that can hold double the capacity of Thomond Park, could bring up to 16 million euro to a much needed economy. Bars, restaurants shops and hotels, they all get a piece of the action, and that is exactly what the city needs. If visitors and supporters stayed for even one or two nights the benefits could be seen. We have seen some 1,900 jobs lost at the Dell plant and the fall out from other services continues The city needs a major boost and this could be it".
While a prominent city GAA stalwart has serious reservations about the switch, other GAA supporters have told this newspaper that although enthusiastic for such a move, they are sceptical that the organisation will take it on board.