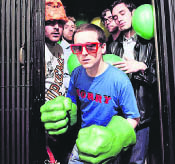 Hot Chip DJ Set
AMAZING Electro Duo Hot Chip return to Trinity Rooms with a DJ set in the main room on Friday March 6. One half of the band lead singer Felix and percussionist Al will take to the decks in the main room at the Limerick club. Hailing from London, Hot Chip have pulled off the trick of not taking things too seriously, but yet still produce seriously good music.
They have released three studio albums so far Coming on Strong, The Warning, and Made in the Dark. The Warning was named Album of the Year by Mixmag and voted the fourth best album of 2006 by NME. They released their third studio album, Made in the Dark, in 2008 which is one of my favourite albums of 2008. If their set from last June will be anything to go by this promises to be a fiercely electric night.
John Spillane Live
TWO time Meteor Award winner and recent recipient of the Irish Music Award USA, John Spillane, is set to play an intimate gig in Mary Immaculate College on Tuesday March 3 as part of the line up for Seachtain na Gaeilge. John Spillane is one of the most accomplished songwriters in Ireland today with performances that shimmer with the magic realism that permeates many of his songs as he effortlessly flits between beautiful poetry tinged with melancholy to roguish, irreverent Cork humour. Also playing will be Lochránn, a group of traditional Irish musicians chosen from the student body at Mary Immaculate College, who have been creating a stir for themselves on both sides of the Atlantic. This will be Lóchrann's last Limerick gig prior to their upcoming tour to Boston later in the month.
Gyan Guitar Genius
GYAN Riley is a strong presence in the worlds of classical guitar and contemporary music. While studying as the first full-scholarship guitar student at the San Francisco Conservatory of Music, he received a recording contract for his debut CD of original works, "Food for the Bearded", released in 2002 on New Albion Records. He has since expanded his career as a composer and instrumentalist, receiving commissions from the Carnegie Hall Corporation, the New York Guitar Festival, the Paul Dresher Ensemble, and the Elaine Kaufman Cultural Centre. He has performed throughout 10 European countries and across the U.S., both as a soloist and in ensemble with various artists such as Zakir Hussain, Michael Manring, Dawn Upshaw, the San Francisco Symphony, the Falla Guitar Trio, the World Guitar Ensemble, and his father, the composer / pianist / vocalist Terry Riley. As a teacher, Gyan has served on the faculties at Humboldt State University, Cal State University East Bay, and the San Francisco Conservatory of Music. Highlights of Gyan's 2009 schedule include a ten-concert tour of Ireland and a performance at Carnegie Hall. Catch Gyan Riley at Dolan's on Thursday February 26.
Mark Geary returns
Friday February 27 sees Mark Geary return to Limerick with a show that was rescheduled from last November when Mark was offered the prestigious support to The Swell Season on their European tour. Following on from that Mark has played his first ever headline dates in Scandinavia and returns to Limerick fresh from getting on stage with The Swell Season as well as having supported Damien Rice on his European dates. Touring his 2008 release Opium, expect another great night of spine tingling memory-makers.
10,000 euro talent show
A Limerick Pub is searching for the city's top talent act and is offering a prize worth 10,000 euro to the winner.
"Have you got the talent" is to take place in eight heats, four quarter finals, two simi finals and then a final night.
The event will be hosted by local singer and DJ Greg Ryan and Mr Showbiz and is certain to attract large crowds for what is being portrayed as very entertaining stuff.
The venue for the new telent show is Strokers Bar and Grill House in upper William Street, Limerick. Anyone interested in taking part can contact 446780 for information.