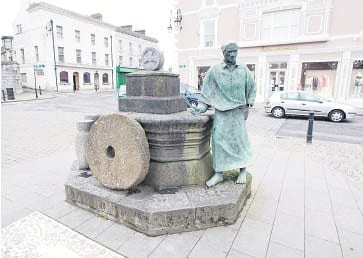 Thirty-seven different nationalities in town
COMMUNITY leaders in Newcastle West have called for 'a realistic' extension to the town boundary and the possible establishment of an official town council.
They point to the fact that the present boundary is in existence since the middle of the 1880s and over the years, particularly the last 10, the environs of the town have expanded with new housing estates and businesses.
A recent house-to-house population survey carried out be Newcastle West Community Council with the co-operation of the County Council, Chamber of Commerce and other bodies, concluded that the population of the town stands at 6,754.  The projected population growth for the next five years in the Town Plan is below this figure. 
The survey also revealed that Newcastle West now has 37 different nationalities making up the local community.
The Chairman of Newcastle West Community Council, Seamus Hunt, senior, told the The Post that the boundary was too near to the town centre and an extension would give the town which is the county capital and the largest town in the county, a higher population.
"It would also enable it for example, to perhaps qualify for more gardai and look for town council status such as Listowel, Kilrush and Kilkee, who are smaller towns than Newcastle West and who seem to be working very well.
"It would, of course, entail extra costs, but we have our own Arus William Smith O Brien which is in place and ready-made to cater for the needs of such a local body.  The initiative in this regard would have to lie with the politicians and political parties," he added.
The town population survey revealed that Newcastle West can now call itself a truly cosmopolitan town.
There are some 37 different nationalities living and working in the area, said Mr Hunt. who intended stepping down from his post at the Annual General Meeting of the Community Council, this week.
He pointed out that a lot of the non-nationals would be living outside the urban area.  Polish nationals by far outnumber the rest.
The survey involved the distribution of a questionnaire to each house to establish the number of occupants as well as their nationality.  It also asked if the house was privately owned or rented, house type, and it sought to establish the number of vacant houses in the urban area.
Newcastle West is still recovering from the unprecedented flooding of the Arra River last Summer.
Extensive water damage was done to houses and businesses with some people having no insurance cover.
Repairs to roads, bridges and footpaths were costed at 1.9million euro, with the County Council submitting a request to the Department of the Environment for funding.
The town, despite its flood trauma, still retains its attractive Square, which now has an artistic feature initiated by the Community Council with a dairy theme recalling that the town was once a major butter-making centre in Munster.