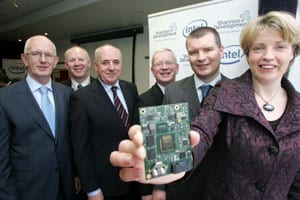 THE world leader in silicon innovation Intel is to invest over €50 million in a major expansion at its research and development facility in the Shannon Free Zone. Shannon Development is supporting the project. It is understood the investment could grow Intel's Shannon workforce by up to 134 new jobs over the next 4 years, bringing the total employment to approximately 300.
Congratulating Intel on their investment the Tánaiste Mary Coughlan said, "Knowledge is now the key to competitive advantage in smart economies.
The Tánaiste praised the skills base at Intel Shannon and said the announcement gives very real meaning to the government's ambition to develop Ireland's smart economy.
The Intel investment will involve two separate R&D projects. The first is a new hardware project involving Advanced 32nm Silicon Design and Validation, which aims to enable the next generation of products and provide small to medium sized businesses with a combination of improved performance, power efficiency, footprint savings and cost effectiveness. The second project is a software development project, extending Intel® QuickAssist Technology, to address price and power consumption constraints while delivering compelling performance.
Winning this prestigious investment is the result of collaboration between Shannon Development and IDA Ireland.  Barry O'Leary, Chief Executive, IDA Ireland said: "Securing this investment by a leading company like Intel is an endorsement of both the availability of talented people in Ireland."
Jim O'Hara, general Manager, Intel Ireland commenting on the expansion said: "In our highly competitive and rapidly changing global markets, success is hard earned, establishing a high performing team with strong technical, managerial and leadership skills is critical to being able to build new products that lead in the marketplace. This makes a genuine contribution to the advancement of Ireland and of Ireland in Europe".
Photograph:
At the announcement in Shannon were, Barry O'Leary, CEO IDA Ireland, John Brassil, Chairman, Shannon Development. Jim O Hara, General Manager, Intel Ireland, Vincent Cunnane, Chief Executive, Shannon Development, Jonathan Walsh, General Manager, Intel Shannon, and Tanaiste and Minister for Enterprise, Trade and Employment Mary Coughlan TD.