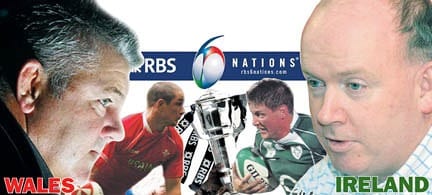 12 MONTHS ago, Irish rugby was in a very different place. Fans, media and a rugby community were baying for blood. Well, that may sound heavy handed and a bit graphic, but it's no secret that Eddie O'Sullivan was top of the pile when it came to prime target number one.
On March 8 last, two coaches with plenty of history went head to head in Round four of the same championship that we find ourselves battling to bridge a 61 year gap in.
The tale of the tape showed that the sides had met on 112 times with Ireland having won 45, Wales winning 61 and on six occasions the sides were inseparable.
In 2008, Wales edged that encounter with Shane Williams scoring the only try of the game. A certain Mr Jones kicked 50 per cent of his place kicking attempts and James Hook came on and slotted an injury time kick to push Wales out by four points and subsequently they went on to win the championship.
The stats will show that Ryan Jones, Alun Wyn Jones and Tom Shanklin all had romping performances as top Welsh carriers.
Tellingly, the after match stats also showed that Wales won 84 per cent of ball in their opponents 22. That leaves a meagre 16 percent to Ireland.
But, and thanks be to God it is a significant but, Ireland and Irish rugby is in a completely different place this year.
Kidney has joined the management team and the dead wood has been cast ashore. With his appointment has come a well documented cohesion to the team where winning is key, desire and passion are tantamount and standing with and beside your fellow country men is all that counts.
Ireland is certainly unified on all counts and it is showing. Four wins from four and the cusp of a 61 year gap is upon us. Ireland are very much in the driving seat.
Last week's game against Scotland showed how much can change in 12 months.
Match stats from the last game showed a complete reversal in fortunes with Ireland winning 91 per cent of ball in their opponents 22.
Ireland accounted for 41 per cent of errors made throughout the game and won 64 per cent of the turnovers during the match.
Last week Ireland had the top five carriers throughout the game with D'Arcy, Kearney and O'Driscoll leading the way.
O'Gara kicked four from five and Stringer had a man of the match performance. Aside from the opening encounters that were scrappy and ugly, Ireland were in control. Ireland had self belief throughout the side and they were there to do a job.
That job is done and now the pitched battle on the fields of Cardiff is what lies ahead. There's a small matter of a holy grail at the end of 80 minutes and with the Irish team in this form, the golden era of Irish rugby will get its just rewards. Oh how things have changed in 12 months.
Wales: 15 Lee Byrne, 14 Mark Jones, 13 Tom Shanklin, 12 Gavin Henson, 11 Shane Williams, 10 Stephen Jones, 9 Mike Phillips, 8 Andy Powell, 7 Martyn Williams, 6 Ryan Jones, 5 Alun-Wyn Jones, 4 Ian Gough, 3 Adam Jones, 2 Matthew Rees, 1 Gethin Jenkins
Replacements: 16 Huw Bennett, 17 John Yapp, 18 Luke Charteris, 19 Dafydd Jones, 20 Warren Fury, 21 James Hook, 22 Jamie Roberts
Ireland: 15 Robert Kearney, 14 Tommy Bowe, 13 Brian O'Driscoll, 12 Gordon D'Arcy, 11 Luke Fitzgerald, 10 Ronan O'Gara, 9 Tomas O'Leary, 8 Jamie Heaslip, 7 David Wallace, 6 Stephen Ferris, 5 Paul O'Connell, 4 Donncha O'Callaghan, 3 John Hayes, 2 Jerry Flannery, 1 Marcus Horan
Replacements: 16 Rory Best, 17 Tom Court, 18 Mick O'Driscoll, 19 Denis Leamy, 20 Peter Stringer, 21 Paddy Wallace, 22 Geordan Murphy