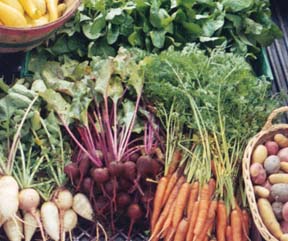 IT's the dreaded and now, quite annoying, "R" word, but it has hit everything in its wake. Probably because we have let it. Food, is no different and as we get cuter with our purchases, some will let the luxury of good sound choices slip them by as they aim to make their money go further. Top of the list for the chop would be your free range meats and most likely your organic produce.
Some producers may differ and others will agree, but figures released recently can indicate a slight decline in organic sales.
In Ireland, the decline is apparent but not fully quantified, but in the UK, sales of organic products present a mixed picture, according to a major report published by the Soil Association.
Organic food sales have been hit across all sectors, as consumers tighten their belts in the face of the economic downturn.
2008 saw sales in both regions marginally rise by close on two per cent, but this statistic must be seen in the context of overall food price rises rather than sales volume increases.
Industry analysts have said that this has been a really difficult period for all retail, and organic sales have suffered along with the rest of the economy. Reports of this nature describe a very mixed picture as consumers react to the financial crisis. But those consumers who are committed to organic products appear to be staying loyal. This shows the underlying resilience of the organic market, which it is believed will grow again once the economy picks up.
Figures would suggest that the organic participants have their fan base and those that choose it as a way of life, but it also shows that the increase in conversion is not that forthcoming as people still adopt a "wait and see attitude".
Th UK based organic body, the Soil Association, issued a report recently and it shows there has been a sharp fall in sales of certain products, including fruit, bread and bakery products, soft drinks and prepared foodstuffs, although even in these sectors, some brands are bucking the recessionary trend. In tandem there has been dynamic growth in sales of organic food through farmers' markets where figures increased an estimated 19 per cent.
Tesco is still the market leader in terms of value despite a fall in organic sales of 9.9% in 2008. Other smaller areas of organic production such as textiles and health and beauty products have also experienced very significant growth.
Organic shoppers, like all consumers, have been buying fewer premium products and prepared foods, and switching to lower-cost retailers. There is also a focus on cutting waste and cooking from scratch – sales of organic home cooking ingredients increased by a remarkable 13.5% in 2008, while sales of organic prepared foods dropped sharply.
Core consumers who may be cutting back are still determined to stick to their organic principles. Over one third of committed organic consumers say they expect to spend more on organic food in 2009, and only 15% expect to spend less.
Animal welfare issues attracted a high public profile in 2008 and sales of organic milk, cheese, some meat and poultry grow by 10.6%, 11.5%, 13.3% and 17.7% respectively, demonstrating that where the benefits of organic production are understood commitment remains firm among ethical consumers.
Research shows that over a quarter of consumers who do not currently buy organic food "would like to know more about organic products than they do" suggesting potential to broaden the market still further in the future.
Whilst volatility in the organic market looks set to remain in 2009, environmental and political challenges to our current food and farming systems will demand that we develop sustainable production methods in the future.
Governments have agreed to cut greenhouse gas emissions by 80% by 2050. Such cuts can only be achieved in agriculture by deriving fertility from sunshine and organic matter – as organic farmers do – rather than from fossil fuel-based chemical fertilisers. That is a core belief of the organic way and one that they encourage leaders to explore
Organic farms like all business face uncertainty and volatility. But there are still significant opportunities in some areas – fruit and arable for instance and in developing genuinely local and regional supply networks. Collaboration will also be key to the success of many farm businesses.