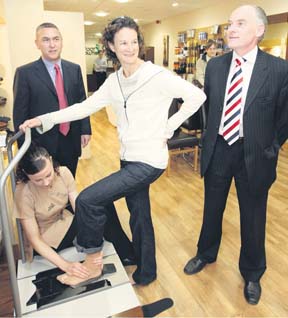 Ireland's Olympian and Silver medallist Sonia O'Sullivan was on hand on Thursday 2 to launch the ultra modern Foot Solutions store on O'Connell Street, Limerick.  Foot Solutions is the leading health and wellness franchise focusing on foot care, comfort shoes and custom arch supports. It is an American concept, once described as Footwear's answer to Starbucks, and currently has more than 250 stores worldwide.
Sign up for the weekly Limerick Post newsletter
Foot Solutions launched its first European store in Cork in June 2007 and now has stores in Limerick, Dublin, Waterford and Galway.
The event was attended by Minister of State T.D. Peter Power, Ray Reidy, franchise owner for Foot Solution Limerick and John and Tony Linehan, who are the master franchise owners for Foot Solutions Ireland and the UK. The company's Limerick opening reception was attended by other invited guests and media.
During the launch, Sonia O'Sullivan was measured for Foot Solutions Custom arch supports by Foot Solutions' manageress Angela O'Connor.
The former top athlete remarked during her speech that these products would have relieved a lot of her recurring injury problems during her notable athletics career.
Foot Solutions Limerick focuses on comfort shoes, custom arch supports and foot care products. They carry some of the world's finest comfort shoes with extra depth and width. Their shoes cover all categories from comfort, sport, dress, preventative, and casual to specific physiological shoes that have health and wellness benefits. These shoes such as MBT and Chung Shi can help improve posture and reduce or in some cases eliminate foot pain and associated symptoms such as knee and lower back pain. In addition they carry a wide range of diabetic footwear.
With their focus on customer service and personal detailed attention to client requirements, a successful future for this Foot Solutions store in the heart of Limerick City is certain.
Why not drop in today to 2 O'Connell Street and avail of the free Foot Gait analysis? Or call 061 404849 for any further enquiries.