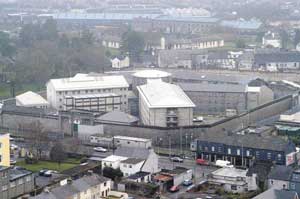 THE revolving door system of early release from prison for some offenders is inflicting fear and terror on elderly people in the St.
Joseph's Street area of Limerick, a local community activist has claimed.
Sean O'Neill from Quinn's Cottages in Prospect, said that he has been contacted by concerned residents of the street over the early release of a man who had been imprisoned for a series of burglaries.
No sooner are prisoners released than the spate of robberies begin again, he said.
"In the past few days three homes in the Emmet Place area of the street have been raided and the elderly residents left terrified.
"In the latest case, one elderly woman aged 83, was sick in bed when the robber struck".
Contnued O'Neill: "Already a priest has been attacked and people living in the adjacent area are now victims to an upsurge of break ins and robberies.
"The way these robbers are given early release from prison must be examined and a method introduced that ensures no early release for repeat offenders.
"The lives of elderly residents are being put in danger by this practice and must we wait until some old age pensioner is frightened to death in their bed before the authorities moveto reform the system?"