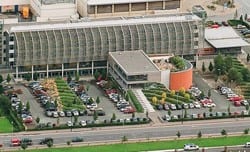 UP-TO 20 pc of the local road network, accounting for approximately 70-80 pc of the traffic in the county, is being salted on a daily basis according to Limerick County Council.

The authority said it is giving priority to treating the National Primary and Secondary routes, the more heavily trafficked Regional Roads and some Local Primary Roads. Ten gritting trucks have been in operation since the cold spell began on December 18. Area engineers are continuing to deal with local hardship and special needs requirements on a case-by-case basis as they arise. Limerick County Council said it has sufficient salt stocks for a further four to five days salting at current rates. 
The roads and water services sections have met with the Gardai, Civil Defence, Fire Service, HSE Ambulance Service and have agreed protocols for dealing with particular issues of access in the event of medical or other emergencies during the severe weather conditions. The council has also confirmed that there are established links with Met Éireann, AA Roadwatch, RSA, Bus Éireann, Department of Transport and the National Roads Authority to ensure that up to date information is available.
The Road Safety Authority (RSA) has issued safety advice as the cold weather is likely to continue and this advice should be heeded said the council.
Meanwhile the Council has reported a significant increase in the usage of water supplies throughout County Limerick during the current period of cold weather.
According to Donal Brennan, Senior Engineer: "In order to assist Limerick
County Council in continuing to provide an uninterrupted supply of water, the public is asked to check their properties for leaking or burst water connections and to have these repaired or turned off as quickly as possible.
In particular customers are asked to check vacant properties, outside taps, cattle troughs, etc. to ensure that no loss of water is occurring from these sources."
Mr Brennan concluded by saying, "we would ask members of the public to call on neighbours, family and friends of older people to ensure that the elderly, particularly those living alone, are kept warm and have sufficient food during the current period of cold weather."