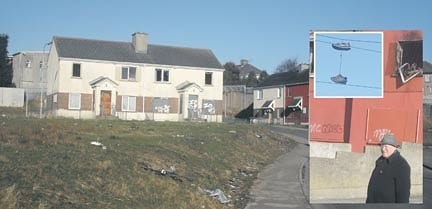 Colum Coomey goes walkabout in run-down Ballinacurra Weston, where boarded up houses dot the landscape
DRUG dealers are tightening their grip on Ballinacurra Weston….and houses continue to be boarded up. Local activist Joe Lynch is putting the blame at the door of Regeneration, and says they have become the forgotten people. He said: "This area has been devastated by drugs and many residents have been forced out due to intimidation".
He pointed out a boarded up house on Crecora Avenue where a resident was forced out of due to intimidation, after 60 years living in the area.
Lynch added: "Many families have been forced to get loans to pay off gangs who came seeking money for their children's drug debts".
One of Limerick's deadliest gangs is believed to operate in the area.  He continued: "They attract young lads to the lifestyle by offering them horses and in some cases guns, so they can terrorise residents".
An indicator that drugs are available in the area can be seen from shoes hanging from a telephone wire in the centre of Clarina Avenue.
Fellow community activist Sean O'Neill, said the problems had been intensified by the lack of action from Regeneration: "They have done nothing for the people here. All they have done is knock houses and make a ghetto out of the place".
He commented further: "When people in the media questioned what has been done so far, they answered they had sorted out the anti-social behaviour…but that was the work of the gardai".
Patrick O'Grady, who has been a resident in Clarina Avenue for 52 years, told the Limerick Post he was fed up with Regeneration: "If they came along and said we're not knocking them houses, we'd know where we stood".
Two of the four houses in his row are boarded up, leaving him surrounded by abandoned units. Other residences in Weston Gardens and Clarina Park have suffered the same fate.
Of the 48 houses that were originally built in Clarina Park, just nine remain occupied.
One resident said: "This house is infested with rats and it's so cold I've had to move my bed downstairs in front of the fire". On leaving Clarina Park, city council officials were investigating rubbish which had been dumped on barren land, the result of house demolition.   There are over 20 boarded up houses in Clarina Avenue and Crecora Avenue.
Stephen Corbett, of Crecora Avenue, commented: "My house is worth nothing now. My wife wants to board up the house and rent somewhere else".
Another Crecora Avenue resident, whose daughter lives in the centre of a row of abandoned houses, said: "We're the forgotten people up here".
Patrick O'Grady feels abandoned by Regeneration: "They couldn't have left this place worse than it is. You'd be afraid to do anything with your house in case they decide to knock it".
Looking at the row of houses from Hyde Road up to Crecora Avenue and Clarina Avenue, Lynch concluded: "My family moved out here from a lane in the city when I was a child and we thought it was heaven. Now look at it, it's worse than the lane we came out of".
Sean O' Neill pictured outside of a derelict house on Clarina Avenue and (inset) shoes hang from overhead electrical wires indicating that the availability of drugs.