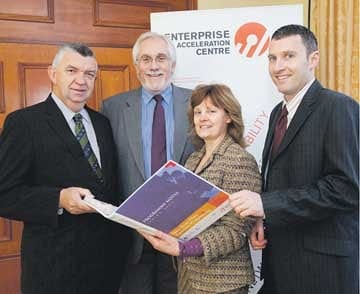 "Starting your own business can be a daunting process," states Burga Fullam, business advisor with Limerick City Enterprise Board. "However the City Enterprise Board offers a number of supports to ease the process and ensure the entrepreneurs takes the right first steps".
These supports include training programmes, advice and information and selective financial assistance.
Sign up for the weekly Limerick Post newsletter
A variety of training programmes reflects the diversity of business start up needs.
Options include Start Your Own Business Courses, Sales Training, Marketing Development Programmes, Market Research, Costing & Pricing Courses Business Planning Seminars and Ideas Generation.
A range of e-business courses are also available that enable the new start up develop an appropriate on-line strategy.
"The courses are available throughout the year," says Burga, "allowing participants to do them as need arises. They are also a great forum for networking, sourcing customers, suppliers and indeed, friends.
 Many of our clients have already been out in the workplace for a number of years and may not be keen to return to the classroom. So we aim to provide user friendly courses with the focus on interaction and practical useful information."
A one to one consultation is advisable and available free of charge. Go online at www.limceb.ie or phone 061- 312-611
Eamon Ryan, Graham Rice, Burga Fullam and Donncha Hughes are pictured at the launch of Start Your Own Business Progammes 2010.