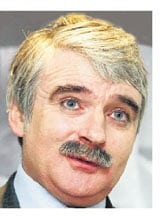 Driving test looms
DEPUTY Willie O'Dea expects to be back on the road soon-with the State's law enforcement agencies allowing him to sit behind the wheel of his own car.
Having lost his ministerial car and driver after his resignation as Minister of Defence, Willie checked out his driving licence-and discovered that he had allowed it to get out of date.
He told the Limerick Post: "It was 13 years since it was last issued to me…the rule is, if you allow your licence to lapse for more than 10 years, you have to go through the entire procedure again".
He had retained enough knowledge of the rules of the road to fly through his theory test-but must now go through the rigours of preparing for his full driving test.
Meanwhile, his Fianna Fail colleague, Niall Collins, TD, has acted as unofficial chauffeur on trips to Dail Eireann. 
"He has been keeping an eye on how I drive", joked Collins.
To gain practical experience, Willie purchased an 2009 Chevrolet a few weeks ago.
When asked if he had been bold enough to take to the road without a full licence holder alongside him, he replied: "No, I've been a good boy…when I do go out to perfect my driving skills, there is always a fully qualified driver with me, usually my wife Geraldine".
Willie enjoyed the benefits of a State car for five years, and prior to that, when serving as Junior Minister of State, he had a driver at his disposal.
It has been suggested in political circles that Willie could shortly be invited back to the cabinet table-and if that happens, there might be a good second hand car back on the market.