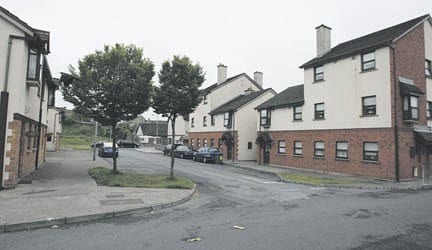 YOUNG teenagers are terrorising residents in the Thomondgate area, it has been claimed. Now, the Minister for Housing is being urged to have a housing estate on Quarry Road, Thomondgate, run by Respond Housing Association, to be taken under the control of Limerick City Council.
Mayor Kevin Kiely is calling for an emergency meeting of the Joint Policing Committee in relation to alleged intimidation of residents.
The mayor claimed that one 13- year-old boy is holding the local population to ransom.
"On two occasions in the last fortnight, he threatened to burn two people in Thomondgate out of their houses, because, he said, they had reported him to the gardai.
"People can't go out without being confronted with thugs, but we should also meet with Respond Housing Association which has no responsibility for the tenants of the Distillery View houses – I now want the relevant officials here in City Hall to write to the Minister for Housing and call on him to have the estate taken under the control of the council".
 Cllr Maurice Quinlivan told the meeting that "decent Thomondgate families are being threatened every night by young lads.
"We must write to Respond on this. As it is, nobody will walk on the Quarry Road, which is having a detrimental effect on pubs and businesses in the area".
Referring to CCTV, the mayor revealed that €200,000 had been spent on installing the cameras in Kileely, Thomondgate and the High Road.
"However, the system is being monitored from Moyross – but it would be much more efficient if the monitoring was done from the community centre in Kileely".
Kieran Lehane, director of services for housing, alleged there is a lack of accountability by management of the housing agency to the councillors.
"Respond is run by a national body which does not have to account for itself".
When contacted by the Limerick Post, Aoife Walsh, spokesperson for Respond, said they have not received any correspondence from elected officials regarding their management of the estate and relationship with tenants.
"We deal with any complaints very seriously and would respond accordingly. Working in partnership with Limerick City Council, all housing allocations are agreed by both parties to ensure an integrated, vibrant estate is maintained".
According to local spokesperson for Respond, Paul Hargaden, there is an active Residents Committee that they work closely with, .to deal with issues that arise.
"Our staff visit the estate on a weekly basis and in the past month, both residents and staff took part in an estate cleanup and an arts workshop.
"At the beginning of this year, an Open Day was held to meet with residents, council official and elected representatives to discuss improvement works for the estate and as a result, we have `applied for planning permission to upgrade elements of the estate".