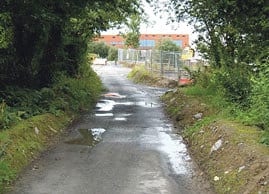 ACCESS to the UL campus from South East Clare is being closed off to cars, leading to expressions of anger from those who use the facility.
Now, Cllr Cathal Crowe is to make representations to Clare County Council on behalf of constituents.
He pointed out that many students and staff in the University either living in the area or coming from Clonlara, are obliged to travel through Corbally.
The Garraun Road, which directly connects Clonlara to the back of the Clare side of the campus, was temporarily closed for a number of years.
"The University erected a gate, closely monitored by security. Many motorists took the route to gain access to the campus".
Cllr Crowe is very disappointed that the Garraun Road is to be sealed off on a permanent basis.
"Although there is still access for pedestrian and cyclists, that road has been there from time immemorial".
According to him, it is imperative that there is access to UL from the Clare side of the river Shannon.
"There is major traffic coming from Clare as it has one of highest volume of students in UL, and more than half of the campus will be on the Clare side of the River Shannon inside 10 years".
A recent survey carried out by Clare County Council showed a high volume of traffic travelling to UL from South East Clare through Corbally and Rhebogue.
"It is argued that the Garraun Road isn't good enough but surely it would make more sense to finance and upgrade the road than permanently closing it," added the Clare councillor.
New access to UL will be created on the Clare side of UL campus when the Coonagh – Knockalisheen distributor road is completed.
"Phase 1 of this road will be funded through Regeneration and it's important that this project is fast-tracked now that UL has strengthened their links with NUIG," he concluded.