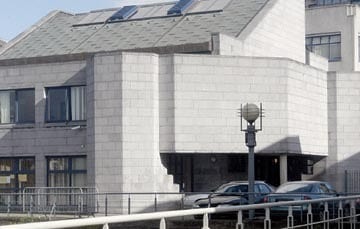 Referred to by Judge O'Donnell as an 'appalling deception'
A THIRTY three-year-old man who posed as a member of An Garda Siochana at the front door of a 90-year-old living alone, appeared before Limerick District Court charged with theft, deception and impersonating a member of the gardai.
The court heard that John O'Brien, originally from Clash Road, Abbeyfeale, but now of Prosperity Square, Barrack Street, Cork, called to the home of an elderly lady on June 15 last posing as a gardai member investigating thefts and money related crimes.
The accused "blagged his way" in to the woman's home on Main Street, Oola, according to gardai evidence and asked for her pension money so he could "photocopy" it for the purpose of his alleged "investigations".
Detective Garda Mike Reidy said that the accused made good his story and left the home of the elderly pensioner with the money, but his car later gave trouble a half a mile from the house.
He abandoned his car and left the scene and gardai found it and traced it back to John O'Brien. The money was not returned to the injured party, but the court heard that she was a "hardy lady living alone, but the incident had had an affect on her confidence".
O'Brien had some 55 previous convictions including thefts and forgery, but his most recent convictions came at Tralee District Court where he received a total of 20 month in prison for similar matters the day before his case in Limerick.
John Herbert, solicitor, told the court that his client was "really sorry for the depth of this crime and that it reflected in his reply to the gardai when he was officially charged at the Mulgrave Street Prison".
He added that the accused was a 33-year-old married man with two children but that his "family life was now in tatters".
Alcohol addiction was attributed to much of his actions and he would steal and take money to "fund the purchase of drink and nothing more".
The accused was said to have "fallen in with a certain crowd perpetrating these types of crimes and he went along and tried it himself".
Judge O'Donnell, appalled by the evidence, said that it was "bad enough to pose as a member of the gardai" but that this crime was "as low as one could go".
He added that it was "an appalling deception," and that he considered imposing a consecutive sentence but the 20 month sentence received at Tralee District Court the previous day prevented his jurisdiction acceding to that.
However, he gave credit for the early plea of guilty in the matter and thus saving the time and further trauma on the injured party, but added that: "This is as mean and as low as you can go and the substantial previous convictions do not help".
Judge O'Donnell convicted and sentenced O'Brien to 12 months in prison for the section 6 offence of deception; six months in prison for the section 4 offence of theft of the €200 and six months in prison for the impersonation of a member of An Garda Siochana.
The good wishes of the court and Judge O'Donnell were expressed to the "feisty woman".