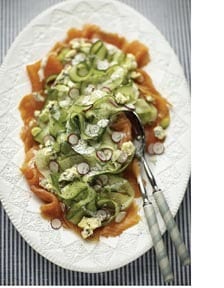 FFT recently carried a recipe on the ultimate steak sandwich that incorporated some blue cheese as a suitable accompaniment. Well, this week, Blue Stilton makes a welcome return in a somewhat different guise that may surprise the majority of you.
Blue Stilton, traditionally associated with Christmas, is fast becoming a popular summertime selection, too. The addition of a full flavoured Blue Stilton to salads, dips, barbecues and, of course, the traditional Ploughman's Lunch, takes summer dining to another level. Here is a lovely summer salad recipe using the full bodied cheese.
This is one of those dishes that you can bring to the table and everyone just grabs a fork, a hunk of bread and tucks in. It's so social and opulent. The smokiness in the salmon is a match made in heaven when paired with cucumber and creamy the Blue Stilton.
WHAT YOU NEED
For the dressing
100g Blue Stilton
The zest and juice of 1 lemon
200ml-soured cream
2 tablespoons extra virgin olive oil
Sea salt and freshly ground black pepper
300g smoked salmon
1 cucumber, stripped into ribbons with a potato peeler
10 radishes, trimmed and finely sliced
3 spring onions, finely sliced
1 teaspoon extra virgin olive oil
1 tbsp poppy seed, lightly toasted
WHAT TO DO
Place the Stilton, lemon juice, soured cream, olive oil with some black pepper and a pinch of salt into a blender and blitz for 15 seconds until smooth. Spread the salmon in neat waves over a large plate or platter. Put the cucumber ribbons, radishes and spring onions into a mixing bowl and dress with lemon juice, olive oil and some seasoning.
Drizzle the dressing over the salmon, then top with the salad before adding a final drizzle and some crumbled Blue Stilton, bring to the table and let everyone help themselves.