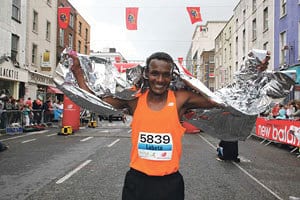 A prize winning athlete who was hospitalised after he was attacked on his way to a training session is back on the track, but he and his fellow athletes have been left badly shaken by the unprovoked assault.
Ethiopian Lebeta Debela, 22, who is a member of Limerick Athletics Club, was assaulted and left unconscious by two men on the outskirts of Moyross as he was on his way to a training session in Shelbourne Park last Thursday evening, August 5.
Lebeta resides at the refugee centre in Knockalisheen.
Paddy O'Connell, PRO of the athletics club, told the Limerick Post that Mr. Debela's coach Willie Logan, was worried when he failed to turn up for training.
"Willie rang him when he didn't turn up for training and was worried when there was no answer.
"Then he got a phone call from the hospital to say Lebeta was there. All he remembers is that he was attacked by two men on the outskirts of Moyross and he woke up in hospital.
"He came out of hospital on Saturday evening and is back in Knockalisheen. He is running again but has been badly shaken by the attack".
Mr. O'Connell added that the victim, who moved to Ireland from Ethiopia in April 2009, was a fine runner who has taken many titles around the country, including winning the Great Limerick Run in May and the Salty Faces 10km run in Clare, also in May.
When contacted by the Limerick Post, a garda spokesperson said that while they were made aware of the incident, a report had not been made to them.