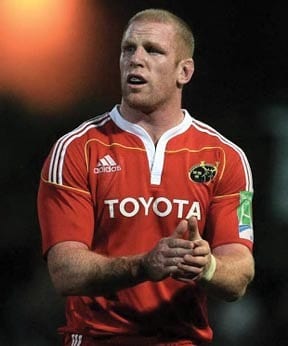 MUNSTER, Ireland international lock and Lions captain, Paul O'Connell, the second row replacement (No 19), appeared before an independent Disciplinary Hearing in Dublin this Thursday, 16 December, 2010 as a result of the red card he received during the Heineken Cup Pool 3 match against the Ospreys at Thomond Park on Sunday, 12 December, 2010.


The red card was issued to Mr O'Connell in the 69thminute of the second half by referee Christophe Berdos (France) for striking the Ospreys player Jonathan Thomas (No 8) in contravention of Law 10.4 (a).
Mr O'Connell, accompanied by his solicitor Mr Donal Spring and Munster team manager Shaun Payne, contested the red card. The ERC Disciplinary Officer, Roger O'Connor, presented the case against the player.
After hearing submissions from both parties and considering the evidence, the independent Judicial Officer, HHJ Jeff Blackett (England) upheld the red card and determined that the act had been deliberate but that there had been no intention to injure Mr Thomas.
The independent Judicial Officer found that the offence was in the mid range (entry point: 5 weeks) of the level of seriousness for an offence of this type. Having taken into account any mitigating factors, such as Mr O'Connell's good disciplinary record, the independent Judicial Officer reduced the suspension from the entry point by one (1) week which resulted in the final suspension of four (4) weeks. Mr O'Connell will be free to play from 10 January, 2011.
Law 10.4 (a) Striking – A player must not strike an opponent.
IRB recommended sanction – Low End: 2 weeks; Mid Range: 5 weeks; Top End: 8+ weeks; Maximum 52 weeks
Both parties have the right to appeal.