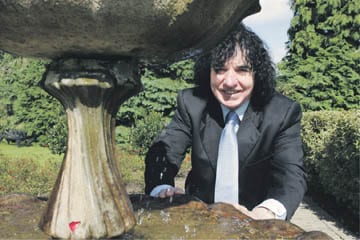 KNOWN throughout the world as a faith healer, Danny Gallagher is offering his services to the public every Wednesday for the next few weeks here in Limerick.
Danny will be based in privacy in Castleconnell for appointments made with him in advance. Up to 100 people have presented to benefit from his healing skills in any one day as over decades, this humble 7th son of a 7th son has received worldwide  attention for his self-proclaimed healing powers.
Danny cannot explain what appears to happen when he touches people, only that he believes it is a gift from God.
"I don't feel any different to anybody else. I never asked to be a healer, it just happened. I can't explain it".
From Maghera in Derry, Danny says that "in Celtic folklore, it was believed that the seventh son of the seventh son possessed the power to heal people by his touch".
He became a faith healer in his hometown after he had a visionary dream which, he claims, "communicated his strange power over his illness".
For many years now he has travelled the globe in an attempt to reach the masses of people desperate to be touched by the 'miracle man'.
In 2002, football hero David Beckham asked Danny to be put on standby to treat an injury as it was feared that the damage to his foot would not be receptive enough to medical treatment in time for the World Cup in South Korea and Japan.
Danny will be available in the Castleconnell hotel for the next six weeks, tel. 048-79642660 to secure his time. Refer to website www.danny-gallagher.com for more detail.