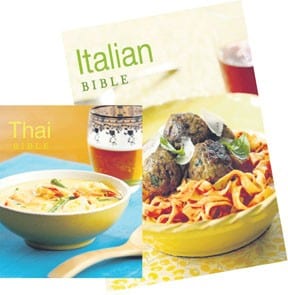 Introducing a brand new cookery series: DK Bibles, for a concise introduction to cooking some of the world's greatest cuisines including Thai, Italian, Japanese and Indian. Each book introduces the cultural history of that country, with information on typical ingredients, regional influences and a comprehensive glossary. Over 130 easy recipes offer straightforward instructions and beautiful colour illustrations to inspire cooks to have a go at creating delicious dishes.
Indian cuisine is probably best known for its hot curries, but it is in fact amazingly varied, with dishes ranging from mildly spiced and creamy, to sweet, sour and fiery. Indian Bible allows cooks to create authentic curries and meat, seafood and vegetable dishes of every kind, as well as traditional snacks and accompaniments including pakoras, rice, bread, drinks and desserts.
Thai Bible inspires readers to create startling aromatic dishes using exotic ingredients and jewel-bright colours. From traditional Thai curries to spicy stir-fries, noodle soups, dipping sauces and sticky rice, there are dishes to suit every taste.
Italian Bible includes simple and delicious recipes from Italy with an emphasis on simplicity, key flavours and making the most out of seasonal produce. From home-made pasta, pizza and risotto to simple antipasti and delicious desserts such as limoncello gelato, cooks can get a taste of Italy with mouth-watering dishes which make a satisfying meal on their own or can form part of an Italian-style feast to share with friends and family.
Be tantalised by the delicate, refined tastes from Japan, by cooking delicious, stylish dishes from Japanese Bible. With straightforward instructions for making sushi and sashimi, as well as recipes for salads, noodles and rice, cooks will be inspired by the simplicity and elegance of Japanese cuisine noted for its careful preparation and presentation which will impress friends and family alike.
As stand alone titles or the start of a fantastic collection, the DK Bibles are the essential cookery companions no kitchen should be without.