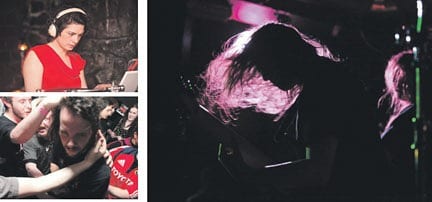 Rockers and clubbers alike united at Baker Place last Sunday, March 20 to bid farewell to the well loved venue. Killtribe from Aachen, Germany headlined an epic night with amazing sets from all four bands. Shardborne, Three Hour Ceasefire, two local bands, played alongside Gaceys Threads from Belfast. While the bands rocked Baker's basement, Sarah Lynch, Lenny and Jeff Lambert DJ'd in The Wicked Chicken.
Economic conditions have led to the closure of the bar. According to Cormac O'Farrell of Baker Place, "we were still getting the crowds in, but they just weren't spending enough money to keep the place going. We needed to staff three venues and had a lot of other expenses in the place and it just got too much. A lot of people put a lot of work into the whole place."  Cormac added that he is thankful to all the bands and staff and everyone involved who helped to make Bakers a major Irish venue.
Baker Place hosted rock bands in the bar, underground dance clubs in the basement and hip hop and house DJs in Limerick's funkiest little bar, 'The Wicked Chicken'. The Wicked Chicken was established by the in 1996 as a jazz bar and was designed by artist Billy Hayes.
In its most recent incarnation, Baker Place became the complete venue for alternative music regularly witnessing dubstep, house and heavy metal cheerfully competing at maximum decibels in the venue's three rooms.
This reporter has many happy memories of the place as I played records for the student/indie crowd in the Baker's club a couple of nights a week throughout the 1990's. Baker Place will be missed. It is my hope that a new venue will soon step up to the plate to provide a venue for niche music. After all, it is that shared celebration of diversity that gives a city its cutting edge.