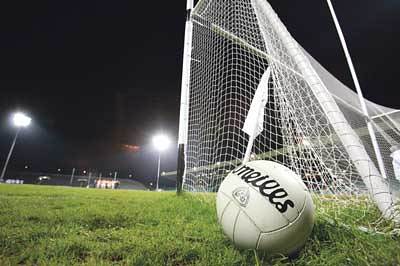 Last year it took a favour from Galbally on the last day of the group stages for Monaleen to secure their place in the quarter finals of the Limerick SFC and it's looking like they'll probably need help from elsewhere yet again in 2012 after they sustained an eight point defeat at the hands of Drom Broadford last Saturday.
Even if they do get some help from other clubs, they'll need to produce two wins of their own and while Paddy Powers are clearly confident that they'll take the first step towards completing that double against St Senans this weekend, we're not nearly as optimistic for their chances for the double.
Paddy Power are going 4/7 Monaleen and 13/8 St Senans and even if the reigning county champions were to start training at 5am instead of 7am and do a three hour session every day, that's still not going to compensate for a lack of form in all sectors of the field.
St Senans' eight point win over Ballylanders at the weekend was impressive but it still owed a lot to the red card shown to Jimmy Barry Murphy at a time when the game was in the balance. However they now have momentum, Ian Ryan is scoring well and the price looks good enough to warrant a small bet on Monaleen failing to take their last chance this weekend.
In the same group, Powers go 4/11 Drom Broadford to beat Ballysteen and 2/5 about NCW beating Ballylanders – neither of those underdogs will go down easily, but they should still go down and those two favourites, alongside Fr Caseys at 4/11 in group 2, will pay out at a little over 6/4 in a treble.
That treble is our main recommendation this week. While St Kierans looked good in racking up a third win of the campaign, they haven't beaten any good teams so far and this will be a whole new type of challenge for them. The winner of this game will top the group regardless of results in the final round and while there's a lot to be said for playing football at the quarter final stage instead of sitting idle, no club wants to play a tricky knockout fixture against a team like Drom-Broadford or Newcastlewest (or even Monaleen!) if it can be avoided.  
In the same group, Galbally are priced at 15/8 to beat Adare and this could be a closer game than Paddy Powers expect. Adare's four point defeat to Fr Caseys looks like good form on paper but really that was down to some atrocious shooting from the Fr Caseys team. The margin could easily have been twice as big and while Galbally weren't playing anything like as good a team last week, they still looked efficient in sweeping Mountcollins aside. This is one of those games where the bookies have the right favourite since Adare are the marginally more likely team to win the tie, but 15/8 is a generous price about the Galbally club, who would probably be more accurately assessed by a price of 6/4 or 11/8.