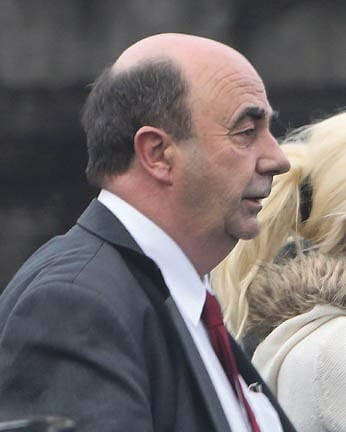 A BUS driver has been given a three-year suspended sentence in a buggery case described by Circuit Court Judge Carroll Moran as "socially repugnant – even in these tolerant times".
Sean McDonnell (58) of Churchill Meadows, Raheen, was convicted of the charge of buggery with an Alsatian on October 7, 2008 after a woman was "found in an unresponsive state" after she had sex with a dog owned by Mr McDonnell. The mother of three was pronounced dead in hospital later that night.
Limerick Circuit Court heard that the father of three had posted messages regarding bestiality on the internet through which he encountered the woman. A laptop computer owned by Mr McDonnell was found to have accessed a bestiality website with over 1.5million hits in a five month period. This, Judge Carroll Moran said, was a "shocking" aggravating factor in the case.
When the woman became unresponsive during the sexual activity, Mr McDonnell called the emergency services. Dr Aine Moran pronounced the woman dead at the Mid Western Regional hospital but a post-mortem carried out by Dr Maria Cassidy was unable to determine an exact cause of death.
Mr McDonnell voluntarily went to Roxboro Garda Station in April, 2009 and his home was searched and a German Shepherd was found. Three computers and technical analysis of mobile phone contacts also formed part of the State's case and the court was told that Mr McDonnell's admissions were helpful to the prosecution. Analysis carried out by animal genetic scientists showed that fluids and semen matched the DNA of Mr McDonnell's dog.
Defending counsel Isobel Kennedy SC, said that the woman "sought out the activity" and since her death, Mr McDonnell was in the "unenviable position of having to plead guilty as the principal offender". Judge Moran said the guilty party, who is a separated father, had been employed as a bus driver but lost his job because of the adverse publicity and moved to England where he sought counselling from The Priory Clinic.  However, due to financial difficulties, he was unable to avail of their treatment and was now embarking upon "long-term counselling" from an independent provider.
The court previously heard that Mr McDonnell's name was added to the register of sex offenders' and any person on the register is disqualified from having a haulage licence for a vehicle which carries more than nine people. This, the judge said, along with the "enormous adverse publicity", was severe punishment for the accused.
During the sentencing hearing last week, Judge Carroll Moran said that even in these "tolerant times", acts of bestiality were considered "socially repugnant". The defendant could have received anything up to life imprisonment but Judge Moran said it was a "very tragic case in which a woman died" and the outcome of the events  could not have been foreseen.
Amid emotional scenes, he was sentenced to three years in prison, suspended for a period of three years. His name was added to the sex offenders' register for a period of five years. The court is to be provided with quarterly updates on his continuing counselling for the period of the suspended sentence.