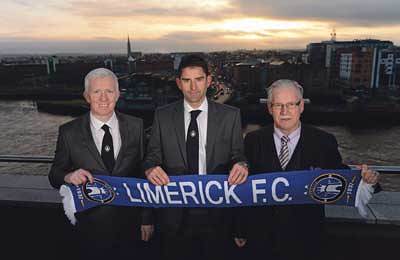 LIMERICK FC's new manager Stuart Taylor has said that the ambition and passion of the club was a key factor in persuading him to take the job.
He also praised the contributions of chairman Pat O'Sullivan and new secretary Kieran Judge in the managerial search process.
Taylor said: "After speaking with Kieran and Pat there was only one decision in my mind and that was to come here. You can see and hear the passion, hunger and desire from them. The ambition they have here was a massive part for me in coming to sign for the football club."
Taylor has worked as a youth coach in the past and he is keen to bring developing players into Limerick FC's first team, while also calling on more established players to help them along.
He sees work ethic and desire from the players as key factors for Limerick to be successful.
"I've got my philosophies as to how I want to go about my work. It's been successful in the past in working with youth players and bringing them into a first team environment. I also want to work with the experienced players at the club and to get the best out of the experienced players.
"I like the passion in Irish players. I like the mentality – I think it's very much the same as the Scottish. They've got a good attitude and they just want to work hard and improve themselves. When you've got that you can always progress players individually and collectively.
"I want a team on the park that's going to be working hard and showing the right type of attitude, enthusiasm, hunger, desire and passion. I want a team the supporters will be proud of."
Limerick FC chairman Pat O'Sullivan has promised that Taylor will be given free rein over all decisions pertaining to the management of the team and players.
The chairman said: "He will get absolute 100  per cent support from us. I am of the belief that you can't give people the job of managing without making them responsible and accountable, but you must always give them the authority to do it.
"He will get that here in this club and as you know we're very passionate about our football and we also have great respect for people when we give them a job. You have to give them freedom to do the job, otherwise they're going around with one hand tied behind their back."
"It's a full-time job for him and it's a job where he will have total responsibility for all football within the club."
Limerick FC also appointed a new chief executive, John O'Sullivan who previously held a similar role at Athlone Town and Cork City.
The Blues have retained the services of promising youngster Rory Gaffney, who has signed a one-year deal, but goalkeeper Dave Ryan has transferred to St Patrick's Athletic.