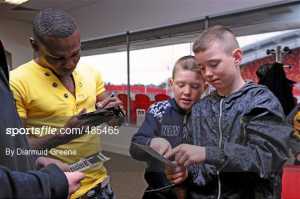 OUR Lady of Lourdes St Saviour's Boxing Club (OLL) enjoyed a historic double success in the recent finals of the National Boys Championships.
Paddy Donovan and John Casey both claimed national titles in Dublin and they will now represent Ireland at the European Junior Championships in Russia during the summer.
Paddy got the better of Crumlin boxer Nathan Maye 5-4 in the 44kg final and John defeated Oughterard's Sean Seoighe 10-3 in the 57kg final.
The national double comes on the back of OLL receiving the John Mahon Memorial Cup as the best-performing club in this year's Munster championships.
The club entered 14 boxers in the provincial event, 12 of whom reached finals, and came away with eight Munster champions.
OLL boxers Paddy Donovan, John Casey, Miles Casey, Edward Donovan, Noel Donovan, Johnny Donovan, Martin Mongans and Danny Harty all enjoyed success in those Munster championships.
The club's female boxers are also making waves at provincial level, with Kate Daly, Cara Kavanagh and Ruby Shine all winning Munster titles in Castleisland.
There was further good news for OLL recently when former Munster and Ireland rugby player Jerry Flannery came to the club for training.
He took the members for pad work and sparring sessions and club trainer Shane Daly said that they were delighted to have Flannery on board.
Mr Daly said: "Jerry Flannery was here with the Limerick Sports Partnership and he was brilliant. Hopefully he will come back because the children were mad about him.
"He sparred one of the lads and did some pad work with them and he signed a load of autographs for the children."
There is evidently plenty of activity going on in the ring at this upwardly mobile club, which is also pulling its weight outside of boxing circles.
OLL will host a fundraiser in the Pery Hotel on Sunday May 12 in aid of two local people in wheelchairs.
Mr Daly is currently busy with organising the fundraiser, which he hopes will incorporate a bout between club members and boxers from elsewhere in the country.
He said that members of OLL approached him with the idea of raising money for Liam Conlon and Patrick Tucker, both of whom are confined to wheelchairs.
via Two national titles for OLL St Saviour's (364) | Limerick Post Newswrite.