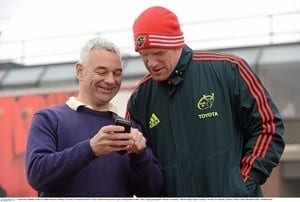 Munster today announced that they will be establishing their main squad training centre at the University of Limerick.
The decision, taken after a lengthy consultative process involving players, management, Munster officials and an independent outside consultant was ratified at Munster Branch Executive level earlier this week.
The new state-of-the-art, dedicated facility, located on the UL campus will be purpose-built and is anticipated to be fully operational by 2015.
Matches will continue to be played along current fixture scheduling lines in Musgrave Park and Thomond Park Stadium with plans in progress for an upgrade of facilities at the Cork venue where Munster Rugby will maintain its Administration Headquarters.
Proposals from LIT and CIT were also considered and Munster Rugby acknowledges the support and interest from both institutions throughout the procedure.
Munster Rugby Chief Executive Garrett Fitzgerald said. "We are very pleased that the process to identify this facility has been completed and confirmed.
"In looking forward to this new and enhanced association with UL, we acknowledge the interest we've had from LIT and CIT, the two other institutions who sought to accommodate Munster Rugby's need for this facility. We look forward to continuing a working relationship with LIT and CIT in the coming years through projects on-going and new."
UL President, Professor Don Barry welcomed the announcement, "I am delighted with Munster Rugby's decision to base itself permanently on the UL campus. This significant development will cement the already strong relationship that exists between the University of Limerick and Munster Rugby and we look forward to building on this for the future."