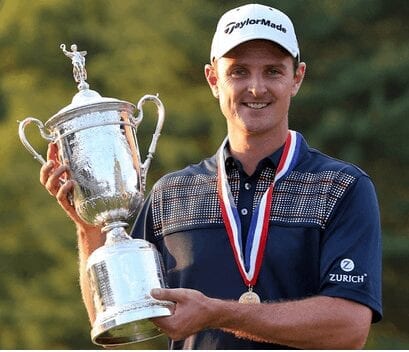 Golfers are usually disappointed when they post over-par scores, but there was one clear exception this week in the case of Justin Rose.
The Englishman ended the US Open with a final day round of 70 to finish on an overall score of +1, but in a fiendishly difficult tournament at Merion it was enough to add his name to the roll of honour.
Sign up for the weekly Limerick Post newsletter
Phil Mickelson, who had led the field for a considerable portion of the four-day event, had to be content with joint second alongside Jason Day. The American has made millions from his career in golf but how he would love to purchase some luck at the US Open – this is the sixth time he has finished as runner-up at the tournament.
Two men who have previously tasted victory in this event, Rory McIlroy and Tiger Woods, endured a nightmare at Merion, with the Ulster man going as far as breaking a club that I'm sure he didn't pick up second hand off eBay. One Irish golfer who will remember the tournament for the right reasons is Waterford amateur Kevin Phelan. He may have finished on +20 but, considering his first round of +1 and the remarkably high scores posted by much higher profile golfers, he can take plenty of encouragement from his week.
Closer to home, a week that began with Limerick hurling folk rejoicing at one ended with local pride, and plenty more, at stake in the club championships. Wins for Doon, Kilmallock, Ahane and Adare maintained their unbeaten records and the quarter-finals surely await for those four.
Doon's victory was the headline creator as they got the better of 2011 champions Na Piarsaigh, who are left to vie with Patrickswell to stay in contention. The 'Well were one of three teams to claim emphatic victories over the weekend, along with Adare and Effin.
There were also narrow wins for Murroe-Boher and South Liberties and, with just one round of games remaining, the groups are well and truly taking shape.
On the inter-county front, Laois threatened to cause a massive upset in Leinster hurling, only for Galway to eventually get the better of their inland opponents and progress to the provincial decider. It was one that the Tribesmen will be glad to have emerged the right side of, while Laois will be massively encouraged as they enter the qualifiers, even though they will face a vanquished county from Munster.
Galway await the winners of Dublin and Kilkenny. The Dubs slayed Wexford in their replay on Saturday but there was little to suggest that they can topple the Cats. The match was littered with malicious incidents, with Wexford down to 14 men as early as the sixth minute. They will probably get past Antrim in the qualifiers but after that it's difficult to see them advancing much further.
Sunday Game analyst Michael Duignan was none too happy with the fare at Parnell Park and football colleague Pat Spillane was even less impressed with what he saw in Connacht and Ulster.
Despite not scoring until the 12th minute, Mayo rammed over 21 points as they obliterated Roscommon, while Fermanagh took twice as long to get on the scoreboard against Cavan, yet they only lost by two points. Spillane was left to comment in typically comedic-cynical style: "I'm opening up a competition to anyone who can provide evidence that they sat through the entirety of those two games, because they deserve a prize if they did."
Clare will get no prize for a nine-point defeat to Cork in Ennis but at least the Banner put up a respectable showing compared to the other 'minnows' in Munster, even if the Rebels played the final 20 minutes at challenge match pace, safe in the knowledge that the job would be done.
An otherwise forgettable encounter between Meath and Wicklow will be recalled purely for Kevin Reilly's bizarre goal from his own half – shades of Tim Howard's howitzer against Bolton in January 2012. In Monday morning's qualifier draw, Limerick were paired with Longford for the second year running.
At the halfway point of the Airtricity League season, Limerick FC are motoring along in seventh place, although Friday's defeat to Shamrock Rovers leaves them without a league win in five games and, stuck on 19 points, the fine progress they had been making since their Premier return has stalled a little.
They lead a glut of teams in the bottom half of the table, and given how tightly they are bunched, there is the fear that the Super Blues could get dragged down into the lower reaches. They resume action on June 28 with a tough fixture against Dundalk, but the run of games in July doesn't appear overly daunting.
Meanwhile, England's under 21s can only look on enviously from home as Spain and Italy prepare for combat in Tuesday's European final in Israel. Their senior teams had a good weekend, with both registering victories in their opening games at the Confederations Cup in Brazil. This much-maligned competition has been the stage for some fantastic goals in the early stages of the 2013 event.
Elsewhere in the southern hemisphere, the Lions maintained their winning form as the first test against Australia looms large. Warren Gatland's team looked impressive as they defeated the Waratahs 47-17, their opponents giving them by far the most competitive game of the tour to date.
Munster's Simon Zebo came agonisingly close to a dream first minute try, and while that was denied he still justified his call-up to the tour, although a start against Australia remains unlikely.
Video highlights
Andrea Pirlo marks his 100th Italy cap in style –  https://www.youtube.com/watch?v=gDmKVs2Lm-o
Alvaro Morata has no fear of acute angles – https://www.youtube.com/watch?v=dGQFJuSFe4c
Kevin Reilly lets fly – https://www.youtube.com/watch?v=W4q0MEH-fn8
Rory McIlroy blames his tools – https://www.youtube.com/watch?v=Vip704CK0uo