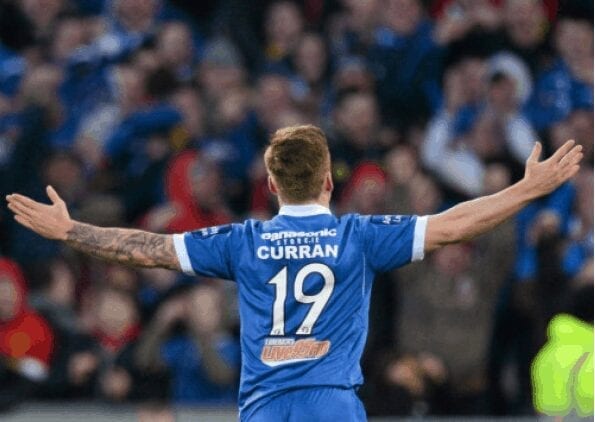 A MOVE to a new country can be a hugely difficult experience for some, but Limerick FC striker Craig Curran has taken to his Shannonside surroundings like a duck to water.
The Liverpudlian joined the Super Blues in February and wasted little time in becoming a fans' favourite at Thomond Park. Curran is quite appreciative of the rapport he enjoys with the supporters and he was also complimentary of Limerick as a city.
"It's been good, I've enjoyed it. I've said to all the other lads how good the fans have been. Since I've been here they've been unbelievable and it's important for them to get behind us because it gives us a massive lift.
"Limerick has been really good. People go on about this reputation but I've not seen any of it to back it up. All I've seen is friendly people and I've had a great time since I've been here. It's a really nice place."
Curran has made a serious impression since arriving in Limerick on loan and last month he signed for the club on a permanent basis. There had been speculation that he could return to England, but he was keen to dismiss it out of hand.
"Basically they were just rumours because I spoke to the gaffer a few weeks ago about wanting to stay. Things are looking exciting here and I definitely want to be a part of that. I think I have definitely improved as a player under this management so I was never in doubt of going anywhere else."
In addition to his Limerick FC duties, Curran is studying for a sports science degree and he is extremely conscious of how he treats his body. He has recently become a brand ambassador with nutrition provider Herbalife, whose products he has attributed to feeling in the best condition of his career.
"Since I've been injured I've had a few problems, a lack of energy and things, so I've started taking some supplements with Herbalife. It's the best I've felt and the best condition I've ever been in.
"It is the best thing out there so I'm trying to help people out because I know people struggle to maintain weight and body shape and they don't like the feeling of being hungry, which I don't. This gives you the best supplements, the best vitamins, the best everything. I'm just looking to help people as much as I can because it's helped me. Hopefully my performances will keep getting better."