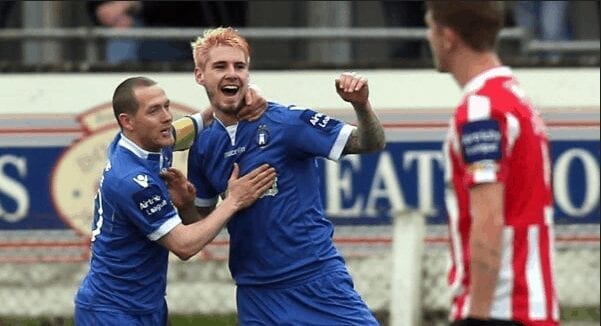 LIMERICK FC will reach the two-thirds mark of the 2013 Airtricity League Premier Division when they host Derry City at Thomond Park this Sunday July 28 at 5pm. The fixture had initially been scheduled for the previous day but was moved because of Derry's Europa League qualifier against Trabzonspor on Thursday evening.
Limerick assistant manager Malky Thomson believes that, rather than being tired from their European exploits, the Candystripes could arrive at Thomond Park full of energy. He added that watching Derry, and other Irish clubs, playing on the continental stage could inspire the Super Blues to follow suit in future years.
"If they get a result, which they are capable of doing, they might come with an energy against us on Sunday. We would like to be in their position, having a European tie and then coming back to play in the league. They'll be up for the game and they'll be ready.
"I think it would be great for the city of Limerick to have a member club competing in Europe. It would be great for the club and not just in financial terms, but the whole buzz it would give the city would be second to none."
European football remains a world away, though, with results such as last week's 2-1 defeat away to bottom club Shelbourne. The in-form Axel Bossekota put Limerick ahead at Tolka Park, but second half goals from Adam Hanlon and Lee Murtagh gave improving Shels the victory. Thomson admitted that such results are massively disappointing and have prevented the team from being higher than sixth in the league.
"I think that's why we are where we are. If we were to be more consistent, we'd be further up the league, but we've really got to learn from the fact that we did ever so well in taking the lead and then throwing it away. It was three points lost for us.
"We definitely don't want to be losing goals like that. It's disappointing because the goals we have conceded, we really shouldn't have conceded. Coming out and losing a goal six minutes after half-time set us back but again it's a learning curve for us. We're sitting sixth in the league and we're going in the right direction."
Limerick have had their share of injuries and suspensions this season, which has left them with a threadbare squad at times, and Thomson has stated that the club is actively seeking to add to their playing personnel.
"We've got targets, we've always had targets. The squad knows that we're an ambitious club behind the scenes. No matter whether the window is open or closed we're always looking at possible players that can come in. We have every faith and confidence in what we have at our disposal, but there will be targets."