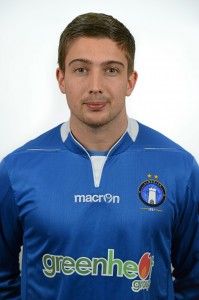 WHEN Limerick FC take to the artificial pitch at an atmospheric Oriel Park to face Dundalk in the FAI Cup on Friday 23, one man will know the terrain better than most.
Shaun Kelly, the Super Blues' right-back from Killybegs in Donegal, spent two years with the Lilywhites earlier in his career, helping them to a fifth-place finish in 2009.
They are now in with a real chance of winning the Premier Division and, unlike most Airtricity League observers, the 24-year-old is not surprised with their title challenge.
"It's a good club and they're flying high at the minute. All the best to them for the rest of the season and I hope they push on and do win it. I can't say I'm surprised because they've got some great players up there.
"They're a passionate club. They've got good fans and they get good crowds in. The other night against Sligo there was over 3,000 people at it and that's unbelievable for the league. Long may it continue for them."
Kelly joined Dundalk after an eye-opening spell with Scottish club Hearts as a teenager. While a move abroad at such a young age can break prospective footballers, he thinks that it gave him an ideal education to go on and further his career.
"I think it benefitted me, even though Hearts weren't the best run club that you could get. You had foreign owners and they want different things than what other people want but it's still an academy. You still have good, young Scottish coaches at the academy, so from my perspective it definitely benefitted me because of the coaching that I got and coming through the academy.
"I'm glad I did do it because I think it benefitted me and I'm still playing football now at a good level so I can't have any complaints about it. To this day I'm delighted that I went over.
"I've heard a lot of people saying that it might be best staying in the League of Ireland and playing here and then maybe trying to make the move across, but when you get the opportunity at 16 to go over, it's hard to turn it down.
"For me it would have been too hard to turn it down. If you make it through the league, great, but if you go over to an academy and you make it, that's the same thing. I think it's much of a muchness; if you're good enough, you'll make it."
Kelly and his team-mates travel to Dundalk as underdogs, but in their two league clashes this season Limerick have had the edge on the team in second place and the defender holds no fear of Stephen Kenny's men.
He is also optimistic about Limerick's league campaign, firmly believing that they can obtain a top five finish despite comprehensive defeats to Drogheda United and UCD in their two most recent outings.
"We'll take confidence out of it because Dundalk haven't beaten us this year. I think if we play to our potential, we could beat anyone. If we turn up and we play to our ability, there's no reason why we can't beat them.
"When you come up in your first season, automatically the first thing you want to do is stay in the league and as long as we stay in the league this year, it's an achievement and I do think we will. We've had some poor results and some good results. We've had a few draws as well. There are still eight league games to go and out of those games we could still push on and maybe catch Shamrock Rovers."
If Kelly and co can further enhance their status as Dundalk's bogey team this weekend, the confidence from what would be such an impressive result may reignite their stuttering league form. It won't come easy, but nor will Limerick fear the Lilywhites after the duels between them so far in 2013.