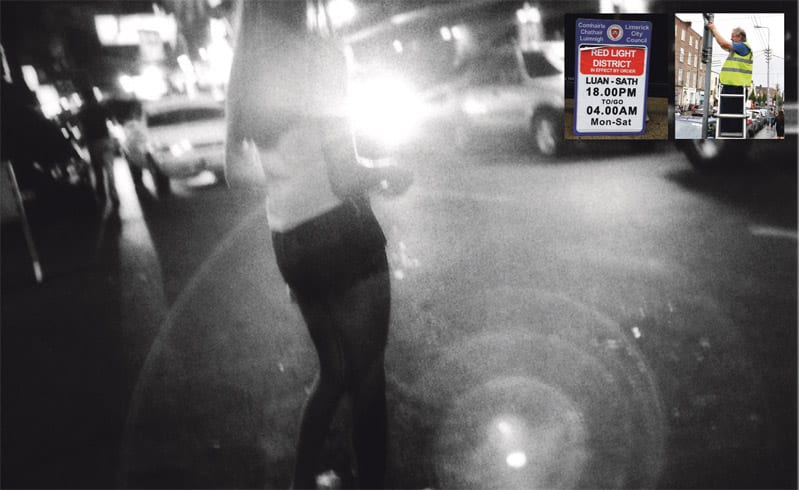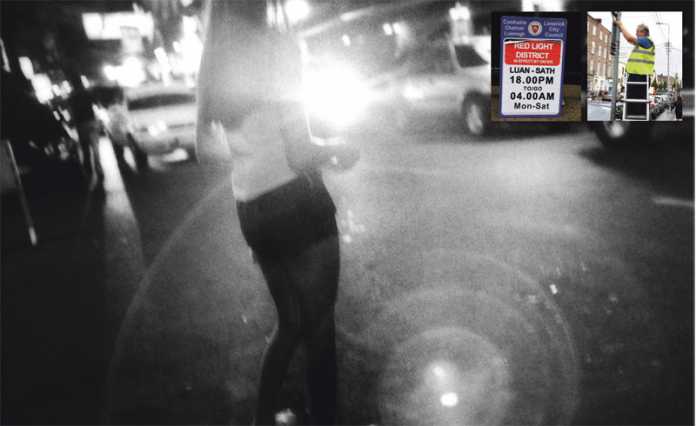 by Andrew Carey
IT IS home to boutiques, bars and restaurants offering culinary delights from around the world. A little coffee culture haven sits at one end while the other is occupied by doctors, dentists, solicitors and professionals.
But there's another aspect of commercial life in Limerick's city centre that's not quite so socially acceptable.
Since 2009, young women have occupied street corners with peering eyes behind doors and blinds watching their every move.
They're skilled practitioners of the oldest profession – a profession that local business owners want to see moved on.
Many theories abound as to the identity of the designer, creator and sign-writer who placed  three bold notices on parking poles indicating that unassuming punters had entered a "Red Light District".
For the most part, it was met with smile or a smart comment but for legitimate local traders it was yet another reminder that the area is at the centre of the city's burgeoning vice trade and it's a situation they are no longer prepared to tolerate.
In the wake of the last week's "red light district" signs, the focus of the national media switched to the streets of Limerick.
Down Catherine Street, two young women are sitting on a step in the doorway of an old Georgian building. They're chatting and sharing some takeaway food as they look at the world passing by.
But this picture of urban life is disturbed when two uniformed gardai approach and the women scurry.
Last month, gardaí raided the building as part of their crackdown on prostitution. They found 18 Romanian women and a number of men, some of them their husbands, inside the house. This was a brothel.
The women, aged between 18 and 36, come from Babadag area of Romania just outside Bucharest.
Interpol intelligence has established the routes taken and methods used to get these women into Ireland.
Inside the building, however, there is one woman who controls the operation. She is a 40-year-old Romanian who has been in Ireland for the past 12 years. She is a married mother of three but her marital status is far from conventional.
She runs one of the more lucrative prostitution operations in Limerick city centre while her husband, who is based in Romania, brings the girls to Ireland.
The 'Madame' has already been prosecuted for organising and living off the earnings of prostitution in Limerick for which she was fined and received a suspended jail sentence. She doesn't engage in prostitution herself but she facilitates the operation by acting as translator and setting the girls up with accommodation.
Her children do not live in Limerick as they stay with a relative elsewhere in Munster.
"She speaks very good English. If you passed her walking down the street, you wouldn't associate her with prostitution, but it is she who facilitates the whole operation. The girls have very poor English so she does the wheeling and dealing," explained a source working close to the vice trade.
"She negotiates the price and sorts out phone numbers and she tells the punters where and when to turn up."
The services provided by women working as prostitutes in Limerick are advertised on an escort website where they occupy the site with up to 50 other women offering sex for sale in Limerick.
Online rates range from €80 to €130 for a half an hour of full sex with these girls, while others can charge up to €250
"When the online business is quiet, these girls work on the streets where a half an hour of full sex is available from anything between €30 and €50," added the source.
The women can make anything between €500 and €1,000 a night and every morning the cash is wired from different Internet cafes mostly through the Western Union facility. In this case, the women are allowed retain up to €100 each week which goes to a central fund for rent, bills and food.
"If you have ten or 12 women wiring small enough amounts of money, then there is nothing that can be done as it is a legitimate route of transferring funds", explained the source.
"Because the money is not staying in a bank account here, it is hard to seize. Western Union is obliged to report any suspicious transactions or large transfers but these people are clever and if you have ten or twelve different women wiring different amounts of money then there is nothing that can be done as it is a legitimate route of transferring funds".
"It is a long and painstaking process but in order to crack this and get to the organised criminals behind prostitution, you have to follow the money…and in order to do this we have to get the girls to cooperate which is not always easy," added the source.
The sex industry in Limerick went through a major crisis in recent times when some of the street prostitutes offered sex without condoms.
This created increased health concerns and highlighted the continued need for services offered by Doras Luimni, the Limerick-based organisation for migrants in the Mid-West, which is part of the 'Turn off the Red Light' campaign to end prostitution.
The HSE also became involved in a recent case involving a pregnant Romanian prostitute who, despite being arrested several times by gardaí while heavily pregnant, continued to work up to three weeks before her baby was born.
The baby girl born six months ago was put into care shortly after her birth and remains under the care of the health executive.
Gardai are also monitoring the activities of another Romanian girl working in Limerick who is believed to be four months pregnant.
"At any one time, there could be six Romanian men in the building working as security guards. The building is divided into bedsits and the men remain in the sitting room while their wives are in the bedroom with customers, on stand-by in case anything goes wrong," the source explained
More than 40 brothels have been raided or closed in the last number of years and one high-profile figure is currently before the courts having operated and lived off the profits of prostitution in Limerick. He was granted legal aid despite having amassed wealth through properties in Europe and cash from busy "lunchtime brothels" in the city.
According to garda intelligence, women soliciting for the purpose of prostitution, as well as the running of organised brothels, hit an all-time high in Limerick in 2011 when the city accounted for over 30 per cent of the convictions recorded in Ireland.
The Garda response has always been in the public focus with varied opinions as to the level of success with their actions.
Senior gardai  say they are tackling on-street and brothel prostitution in Limerick and while this achieves some publicity, its effects are is limited in terms of targeting the people behind the business.
Not every aspect of the Garda policing of the vice trade is as obvious as the on-street or brothel raids and 21 men were prosecuted for soliciting on the city's street as part of Operation Freewheel in 2011
With teenagers and young women arriving from Brazil, Portugal and Romania as well as other parts of Eastern Europe, the newcomers live in apartments and some even stay for long periods in hotels, despite having no visible source of income.
Doras Luimní runs a street outreach programme in conjunction with the Red Ribbon project providing support to women affected by prostitution in Limerick city.
According to Anti-Trafficking Officer, Patricia Stapleton most of these women are young and from Eastern European backgrounds, mainly Romanian.
"These women work in all weathers, seven nights a week. During our outreach work, we see the male controllers, handlers and pimps who often prevent outreach workers from engaging with vulnerable women, some as young as 18 years of age."
Last week, gardaí in Limerick applied for Anti Social Behaviour Orders (ASBOs) in respect of eight women from Romania allegedly working as prostitutes in Limerick.
However Doras Luimni has criticised the 'public order' approach which it claims is a "completely inappropriate" way of addressing the problem.
The ongoing issue of prostitution in Limerick was also highlighted last week when a number of traffic signs were mysteriously altered to read 'Red Light District', before being quickly removed by the local authority.
Cleverly designed to mimic the underlying signs, they read 'Red Light District, in effect from Monday to Saturday, 6pm to 4am'.
The stickers were immediately removed by local authority but local traders fear that business is being severely damaged by the ongoing issue of on-street prostitution.
"I'm in a Georgian building and they are at my door at half past six sitting on my steps, I know my neighbours who are open later than I am have called the gardaí because apparently by 6.30pm, a whole other life takes over this area," said Grainne Vaughan who runs an accessory boutique on Catherine Street.
Limerick's fashion quarter sits among these streets that have the underlying issues with the sex trade.
One shop owner said that shoppers who know the streets to be in a red light area will avoid bringing their custom.
"The prostitutes are bold and blatant and harass any man they see on the street. It is getting worse and we are continually on to gardaí".
The shop owner described how some of the prostitutes who have been in the area for some time are not as bad as the newer women as they "harass every man who moves on the street".
Last week, former Munster and Irish rugby player Jerry Flannery made national headlines when he said that if some of the men using prostitutes washed more regularly and bought new clothes,  they might not to have to pay for sex.
But the problem is much more complex than that.
For those dedicated to tackling the serious issue of prostitution in Limerick, the constant and biggest challenge is to prosecute the criminal gangs behind an industry that is worth millions of euro a year.
"Another really scary concern of ours is if the local criminal gangs realised just how much money can be made from prostitution, they would get involved as it doesn't carry the same risks as drug dealing and is so much harder to prosecute", one Garda source said.