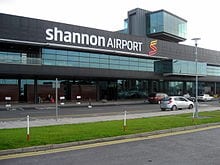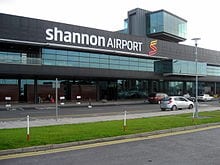 TWO anti-war activists charged with entering on the runway at Shannon as part of a protest against a military strike on Syria, have given an undertaking not to breach airside restrictions at the airport while their charges are before the court.
Margaretta D'Arcy 79 of Bridget's Place, Woodquay, Galway and Niall O'Farrell 60 of Ballynacloghy, Maree, Oranmore, Galway, were arrested on September 1 after airport security were alerted to the two activists protesting on the runway.
Garda Inspector Tom Kennedy told Limerick district court on Monday that the anti war campaigners had been charged in respect of the Irish Aviation Act. Ms D'Arcy made no reply when charged while Mr Farrell said he was totally innocent  and asked if it could be proven that he was on the runway?
Both defendants chose to represent themselves after Judge Eugene O'Kelly explained that they had the right for legal representation.
Ms D'Arcy said that "lawyers developed a whole industry and made the law much more complicated than it actually is", therefore she would address the court herself and rely on the judge to oversee matters.
Gardai objected to the granting of bail with Inspector Kennedy saying that the State was taking a serious view of the matter, given the risks posed by people breaching the runway area of the airport.
A conviction could result in a prison sentence of up to three years. Inspector Kennedy said that both protestors wore orange jump suits and carried placards as they gained access through an opening at a gate used by emergency vehicles. Both were arrested on the runway.
Having voiced his opinions on a number of occasions, Judge O'Kelly warned Mr Farrell that the court was not a place for political statements and a further outburst would be treated as being in contempt of court.
He said that the substantive issue was not on trial and Mr Farrell's statements were more suited to a different forum. Inspector Kennedy said that while there was no traffic operating at the time of the protest, Shannon was the emergency landing and diversion base for aircraft on the North Atlantic routes.
"There is a huge issue of danger is someone goes on to the airport – all of the airport is controlled by Air Traffic Control and permission to access it or cross the runway must be granted by them.
"Inspector Kennedy said that the State was asking that both defendants be remanded in custody as they feared similar breaches would occur and a similar incident occurred last October.
A number of people were at the scene protesting. Some had taken photographs that "were immediately posted on social websites". Stating that further incidents like this could occur, Inspector Kennedy said it was a "deliberate, orchestrated and planned event".
Granting bail to both protestors, Judge O'Kelly warned that any breach of the conditions would result in them being in contempt of the court. When Mr Farrell gave an undertaking not to breach airside security, he was told by Judge O'Kelly that there were other legitimate and peaceful ways to protest.
The defendant replied that his only business in Shannon was for peace. "There is nothing more legitimate", he said.
Bail was set at €1,000 with both Mr Farrell and Ms D'Arcy undertaking not trespass on the airside grounds of Shannon Airport pending the conclusion of the case.
They are to appear at Ennis District Court on September 11 next.