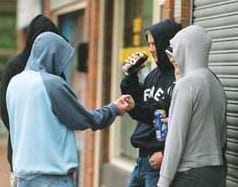 A GANG of drug users and heroin addicts are terrorising an area of Limerick city centre through thefts, criminal damage and anti-social behaviour,  a local businessman has claimed.
The claims were made after a car driven by a person believed to be under the influence of an intoxicant, hit a number of parked cars on Henry Street before eventually coming to a halt inches from the front of a shop.
Business owners are now calling on the Gardaí and the local authorities to crack down on the offenders who they are affecting business and residents of the area.
"It's ridiculous, these 'heroin heads' are prepared to do anything to get money to feed their habit. Steal a car, rob someone of their phone or wallet or take stuff from businesses or shops and try and flog it off", one business owner on Henry Street said.
Speaking anonymously as he "didn't wish to be targeted or draw these people", he said anyone could see they were up to "no good".
"They're ruining our community and, when it happens, they cause havoc. Those people all had to get their cars fixed up and one car was completely written off."
Following the incident two weeks ago, a man was arrested at the scene on the suspicion of driving while under the influence of an intoxicant.
"It's like a vision of the dead sometimes. Strung out and desperate, they will take stuff from my shop and I can't stop them. They could pull a needle or anything. It sounds like a dreadful situation and at times, when you are hit or the victim of any crime, it certainly is very unpleasant, but still, this can't go on.
"This is an old part of Limerick and the church is nearby so there are a lot of elderly people who attend the Masses and the Novena when it is on. All I can think of is that an old woman could be walking up the road and some addict thinks it's okay to steal her purse for the few bob that might be in it. All so he can get a hit."
A third business woman said that she believes that some of the "troublemakers" have been moved from areas of regeneration.
"I'm all for a better Limerick, but I know what happens. They cause trouble in the regeneration areas and then they are moved away. They get a place nearby and start again. It doesn't solve the problem, it just moves it around and never gets it dealt with."
Senior gardai say that they are aware of areas and houses where addicts are known to frequent and, as part of their crackdown on the sale and supply of illegal drugs, they are constantly targeting this type of criminal behaviour.
Chief Superintendent Dave Sheahan said they are tackling all levels of crime in the pursuit of safer communities.
"We are aware of the situation and we have planned to meet with stakeholders in the area to get a remedy to this problem. We are tackling this head on", he said.