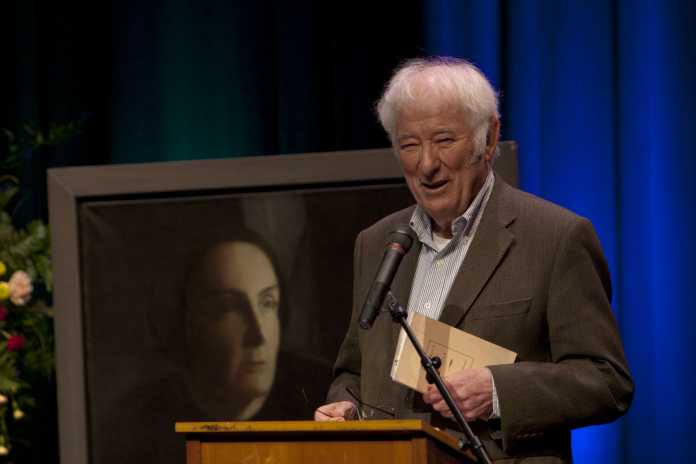 LIMERICK'S top academics have paid tribute to the late Nobel prize-winning poet and playwright Seamus Heaney, following his death last week at the age of 74.
Professor Michael A Hayes, president of Mary Immaculate College, said the poet "delivered a performance that few will forget" when he appeared before a full house at the Lime Tree Theatre as part of the Kate O'Brien weekend in February 2012.
Prof Hayes described Mr Heaney as "the greatest poet of our age" and said he left "an enormous legacy to the Irish and international literary world".
Dr Eugene O'Brien, head of the Mary Immaculate College English department commented: "Seamus Heaney was probably our profoundest thinker, most complex writer and very much an ambassador of all that is best from the Irish experience.
"I can do no better than quote his own encomium on the death of Czeslaw Milosz and say that in the time of his death, there is 'an expanding of grief into the everlasting reach of poetry'.
"He has left a canon that is an enabling source for generations to come: a light has gone out but the door stands open."
UL president Professor Don Barry stated: "No words can convey the mark Seamus Heaney has left on our country and our collective consciousness.
"The University of Limerick was honoured to be associated with Seamus Heaney's extraordinary contribution to Irish life and Ireland's cultural evolution when he accepted an Honorary Doctorate in Letters in 1996, shortly after he had received the Nobel Prize for Literature.
"Our thoughts are with Marie wife of the late Mr Heaney and the family but we feel certain Seamus's unparalleled literary, intellectual and cultural legacy will keep his spirit alive for future generations."
Born the eldest of nine children in Co Derry in Apil 1939, Seamus Heaney won the Nobel Prize for Literature in 1995. The world-renowned poet passed away in Blackrock Clinic in Dublin at the age of 74 following a short illness.