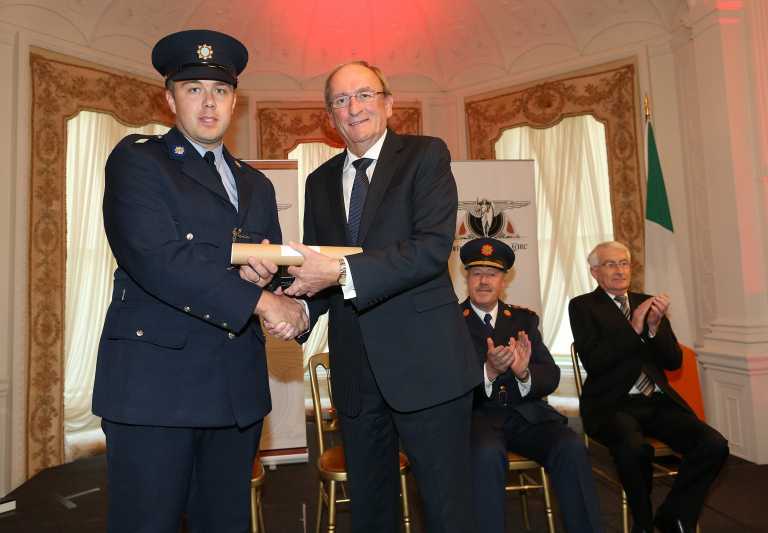 HEROIC Limerick Garda Joe Hayes was presented with a national bravery award last week for risking his own life to save a distressed young woman who jumped into the River Shannon.
Joe, who is the Clare senior football team goalkeeper, made the winning save at 6:30am on June 6 last year when he was on duty with colleagues in the Dock Road area of the city.
After noticing a woman standing by the river, the Gardai were concerned for her welfare and stopped to talk to her.
The 22-year-old woman appeared to be in an irrational state and seemed to be intoxicated, and while every effort was made to persuade her to step away from the edge of the river, she jumped in.
Garda Hayes, who's stationed at Henry Street, immediately reacted and followed the woman into the water. The brave young Garda swam to her assistance and brought her back to the quayside where, with the help of his colleagues, she was removed from the water and taken by ambulance to hospital.
The 30-year-old Ennis native's actions were highly commended at the National Bravery Awards in Dublin this week, especially considering the natural elements he had to overcome. At the time of the incident, the tide was coming in and the force and swell of the river was made worse by heavy rain that had previously fallen.
The currents were described as "treacherous" with Garda Hayes facing a real risk to his own life in saving this woman.
For his efforts he was awarded a bronze medal and certificate of bravery. He was among 21 award recipients honoured by Ceann Comhairle Seán Barrett TD, in recognition of outstanding acts of bravery at a national ceremony in Farmleigh House.
"In going to the aid of others at great risk to their own safety, our award winners have brought great pride to themselves and their families and great happiness to the people and the families of those they have helped. One cannot fail to be impressed by the strength of spirit shown by the recipients of these awards. It is that strength of spirit that makes our communities better places in which to live, that selfless sacrifice and endeavour that lifts us all and benefits us all," said Deputy Barrett.