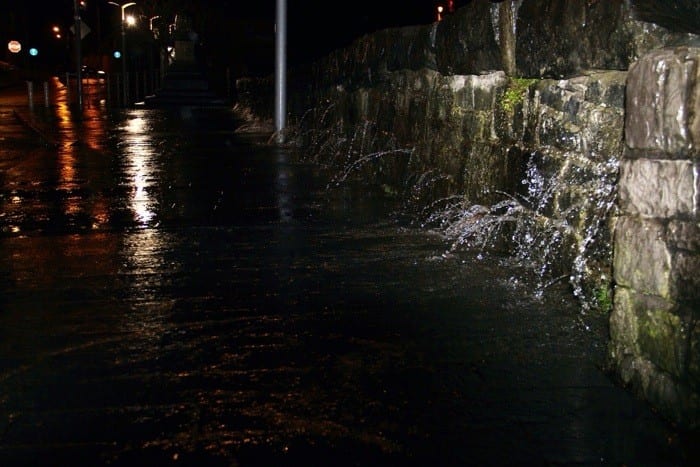 Water bursting through an old defence wall in Limerick
Andrew Carey
DESPITE the efforts of local authorities in advance of the high tides and adverse weather that caused major flooding, Limerick City and County manager Conn Murray has said that services couldn't cope with the "unprecedented" water levels.
Speaking ahead of meeting with locals and public representatives, Mr Murray outlined the position.
"We had our preparations made and had been working to shore up defences for days in the areas considered most at risk of flooding in the city and county but the volume of water was such that many of our defences were simply unable to cope",
As public service organizations in Limerick city continue to deal with the aftermath of severe flooding which affected hundreds of houses mainly in the King's Island area, water levels remain high and the worst affected areas are cordoned off.
High tide this Sunday morning was at 8am but no new flooding has been reported.
St Mary's Secondary School and College Park Road which had flooded yesterday are now being pumped out.
Sixty people were evacuated from their homes yesterday and assistance provided to several hundred others. Most of those evacuated stayed overnight with relatives.
Accommodation was provided for a small number.
Flooding in the city has been described as unprecedented. Flood defences had been put in place in the most vulnerable locations but were unable to cope with a combination of torrential rain, high tides and strong winds.
Mr Murray is to meet local public representatives to brief them on developments. He has praised all concerned in efforts to deal with the flooding especially community organizations.
"The tremendous public spirit shown by the people of Limerick City has been of great benefit to the state agencies including the fire and rescue service, the ambulance service and the Gardai in trying to deal with the situation. I would also like to thank the Defence Forces, Order of Malta,, Limerick Marine Search and Rescue, Civil Defence and Red Cross for their assistance", he said.
"I understand the great shock experienced by residents especially the elderly. Nobody in the city, not even the oldest resident of King's Island, can ever recall such severe flooding", he added.