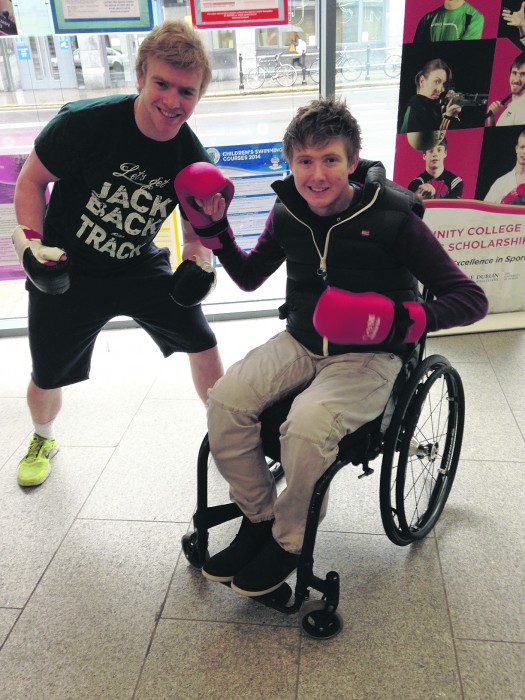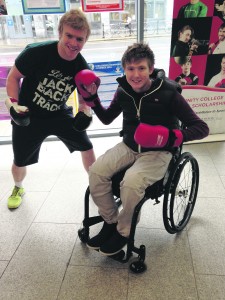 A LAW student from Limerick will take part in a white collar boxing fundraiser in Dublin this weekend in aid of a friend who suffered a horrific accident two years ago.
Billy Glynn from Lower Shelbourne Road will take to the ring in the Dandelion Bar and Nightclub on St Stephen's Green this Friday February 21 to support his friend Jack Kavanagh.
In August 2012, Jack broke his neck when diving into a wave during the first day of a week's holiday in Portugal. He suffered a spinal injury which left him with no feeling below his upper chest, has limited use of his arms and no use of his hands or fingers.
He had worked that summer as a lifeguard and windsurfing instructor at the Uisce Irish language water sport centre in Belmullet and, despite his serious injuries, the pharmacy student is determined to create as normal a life for himself as he can.
"They tell me I'm not likely to be able to move myself from my bed to my wheelchair, or from my wheelchair to a car without assistance. I think I will and intend to do everything I possibly can to engineer that freedom for myself," he explains.
Billy, who went to Clongowes Wood College with Jack, will fight another former student from his Kildare alma mater, Shamie O'Keeffe, in the boxing fundraiser at the Dandelion.
Billy is a keen sportsman, having played soccer with Coonagh, tennis in Limerick Lawn Tennis Club, golf in Castletroy and rugby with Garryowen. He has also represented Trinity College in the annual colours rugby match, as well as playing with Blackrock.
Billy has suffered knee and cruciate ligament injuries in the past, but has managed to overcome these and he is now determined to provide as much help for Jack as possible.
For anyone wishing to contribute to the fundraiser for Jack, Billy can be contacted on 087 2516354, or log on to http.//www.mycharity.ie/charity_fundraiser_list.php?charityID=823 and click on Billy Glynn.